Family Shelter Opens in Former Strip Club
Human Solutions revamps space
2/2/2016, 5:23 p.m.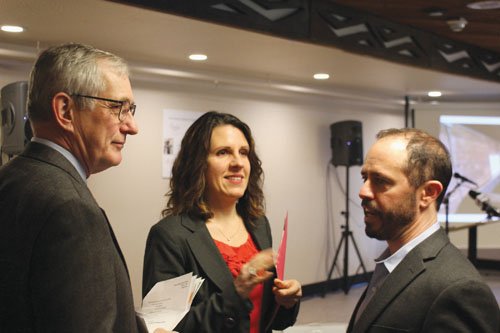 A new center for families experiencing homelessness opened Monday at the site of the former Black Cauldron strip club at 16015 S.E. Stark St.
The Human Solutions Family Center will provide emergency shelter in addition to a wide range of services to families experiencing homelessness.
"We want the name to reflect the fact that families will have access to many services to help them get back on their feet. Shelter is just a part of what we do," said Andy Miller, executive director at Human Solutions.
The 7,400-square-foot building underwent extensive renovations in just 10 weeks' time and will provide beds for up to 130 adults and children in homeless families starting tonight. It will be open year-round, 24 hours per day – the first such center in Multnomah County.
The site has many family-friendly amenities, including a full kitchen, showers, laundry facilities a computer lab, and play areas for children. Human Solutions purchased the new facility with funding from Multnomah County and the non-profit Housing Development Center.
Holst Architecture donated design services for the new center and Colas Construction, a contractor from the local African-American community, completed the renovation.
The Family Center is open to all families in need of shelter and never turns a family away due to lack of space. When the center reaches its 130-person capacity, Human Solutions arranges overflow sleeping space at other locations.
"Thanks to Multnomah County our partners and volunteers, this center will never have to turn away a homeless family to sleep outside," Miller said.
The new center provides 30 percent more beds to meet a surging need for family shelter. Miller noted that "mass evictions, rent increases and other forces of displacement are hitting our community like a punch in the face."
Multnomah County Chair Deborah Kafoury echoed Miller's sentiments, "Our community prides itself on prioritizing our children and families," she said. "But the fact that we so desperately need these temporary shelter beds in the first place leaves me devastated."
Kafoury said Multnomah County had 3,000 school-aged children experience homelessness in 2014.
"I think it's very important to recognize that many of the families that will find shelter here are experiencing the trauma of homelessness for the very first time," she said. "These are our neighbors, our relatives, our co-workers, our friends. All of them are sleeping at the shelter because they cannot find an affordable place to live."
Portland Mayor Charlie Hales and Portland City Commissioner Dan Saltzman, who oversees the Portland Housing Bureau, were also on hand to help open the Family Center, and noted that more affordable housing needs to be built if we are going to end family homelessness in our community.



Human Solutions relies on donations to feed families at the center and keep the shelves stocked with basic necessities such as blankets, towels, pillows, toiletries and diapers. Dinner is served each night at 7 p.m., and there is an urgent need for hot meals. The Human Solutions contact for volunteers and donations is Outreach Coordinator Danielle Stirnaman. She may be reached at 503-278-1637 or dstirnaman@humansolutions.org.