Duckworth Dock May Move
City department wants out of dock upkeep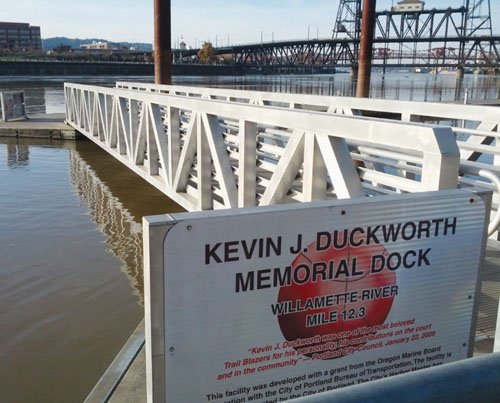 The downtown core may be losing its public dock on the Willamette River with a proposal to move it to Swan Island.
The Oregon State Marine Board is soliciting public comment on the proposed relocation of the Kevin J. Duckworth Memorial Dock from its current location on the Eastbank Esplanade, upstream of the Steel Bridge.
The dock was dedicated as a memorial for Kevin Duckworth after his death from heart failure in 2008. The beloved former Portland Trail Blazer was fan favorite who loved to boat and fish for salmon in the downtown core. It was constructed a few years earlier as part of the Oregon Convention Center as a short term and day-use facility for recreational boaters. Management of the dock was by Portland's Department of Transportation.
Now PDOT is facilitating a request by Daimler Corporation to move the dock to a greenway along the Willamette River near where the company plans to build a new headquarters on Swan Island, according to John Brady, PBOT communications director.
Brandy says the city's transportation department doesn't want to be in the dock business, and under the proposal, maintenance and security would be transferred to Portland Parks and Recreation at the new site. Upkeep could eventually be assumed by Daimler, the Swan Island truck maker, depending on future negotiations, but the dock would still be maintained for public use, Brady said.
The proposed new location would connect to the North Portland Willamette Greenway trail about 2.75 miles downstream from its current location. The site would include a 200 foot slow-no wake zone and allow short-term overnight and day use tie-up for recreational boaters, official said.
Daimler is building its waterfront headquarters on Swan Island, a $150 million project that the German-owned company says will result in 400 new, high-wage, white-collar jobs. It will receive $20 million in public support for the project.
The Marine Board will host a public meeting on the dock moving proposal on Tuesday, Feb. 23 from 6 p.m. to 8 p.m. at the Portland Building, Room C, 1120 S.W. Fifth Ave. to receive oral and written comments from interested parties.
A submission deadline for written comment is also on Tuesday, Feb. 23 at 8 p.m. You can email Janine.belleque@state.or.us or mail your correspondence to Janine Belleque, Boating Facilities Manager, 435 Commercial Street NE, Suite 400, P.O. Box 14145, Salem, OR 97309-5056.