Who I Am: Celebrating Me
Black History production moves to Portland Center Stage
2/18/2016, 4:03 p.m.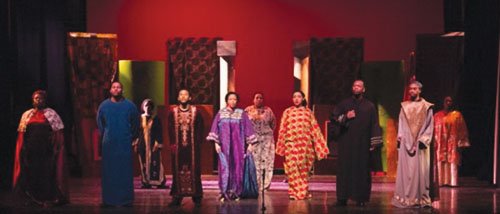 The 10th anniversary of the black history play "Who I Am, Celebrating Me" written, directed and produced by native Oregonian Shalanda Sims, and performed by a community of youth and adult artists, moves to a new venue this year.
This show, which in the past has been presented at Jefferson and Reynolds high schools, and Pacific University, will take place this year at Portland Center Stage, downtown, on Saturday, Feb. 20 at 2:30 p.m. and Monday, Feb. 22 at 7:30 p.m. Tickets are available at pcs.org.
You're invited to be entertained, informed and delighted as the group shares stories of some of our unsung heroes in the African-American community chronicling our voyage from Africa to present day.
The producers of the play say people always ask why the atrocities of the past are relevant today and the answer is those that ignore history are destined to repeat it and although the picture may have changed on your screen or newspaper and the time and date on your watch, the stories and struggle are still real and present in today's society.