Films to See at Portland International Film Festival
Last week before curtain call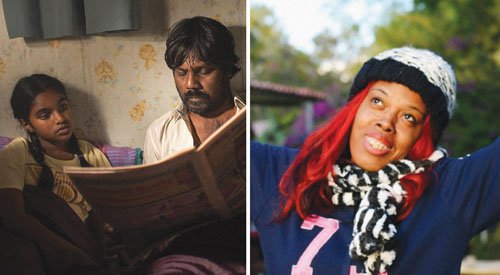 The regular schedule of the Portland International Film Festival runs through Saturday, Feb. 27, and encore screenings will occur on Sunday, Feb. 28. My favorite film so far has been "Thru You Princess," an Israeli documentary about a beleaguered New Orleans singer who is discovered by a genius composer in Israel via her YouTube posts; though its festival run is over, I am really hoping that one gets a theatrical release. A biopic about Hank Williams, "I Saw The Light," is also done with its festival run, but will get its theatrical release soon, and though it takes a pretty standard approach to telling its story, it's worth seeing for the fine performance of Tom Hiddleston as Williams and for its wonderful music.
Three of the other films I've seen will have additional screenings at PIFF.

"Dheepan" won the Palme d'Or award, the highest prize at the 2015 Cannes Film Festival, and expertly tells a tale of Sri Lankan immigrants to France. Its star was himself a child soldier with the Tamil Tigers in Sri Lanka who immigrated to France and is now an acclaimed playwright, essayist, and novelist. In his first leading film role, he is riveting as a man whose departure from his home country depends on assuming an acceptable refugee identity as a husband and father on the other side of the conflict he is leaving. The film lingers with an appropriate sense of disorientation, gradually revealing pieces of his story along with those of the woman and orphaned child who enter France as his family members. All three are lost in so many ways, including with each other, and this film is a wonderful example of showing rather than telling; we struggle with the characters to learn what is expected of them, who each of them is, and how to read the signs of danger in the housing project where the title character is assigned work as a caretaker. An excellent and immersive window into experiences common to immigrants that will play on Thursday and Friday, Feb. 25-26.
I didn't approach "A War" with much enthusiasm, but this Danish film, nominated for this year's foreign language Oscar, has much to recommend it. Its first half was much what I was expecting, depicting the day-to-day challenges faced by soldiers in Afghanistan and specifically by a young commander, alongside scenes of his young wife at home with their three young children, struggling with the strain of his absence. What took the film beyond a standard exploration of war's costs for soldiers and their families is the trial in its second half, in which the commander stands accused of ordering an attack on civilians. That dilemma, coupled with what went before, illustrates well how easily civilian casualties occur during war, the challenges of meaningful oversight of such decisions, and how war turns even the best people (and audiences) into moral relativists. A cut-above most war films for its subtlety, this film plays on Thursday, Feb. 25 and Saturday, Feb. 27.
"7 Letters" offers pretty slight entertainment from a slight premise: seven writer-directors made short films marking Singapore's 50th birthday. The stories are sweet, set in different periods, and in most cases sentimentally depict interesting aspects of the mix of cultures in Singapore, the passing of generations, and changes brought by modernization. I gravitate toward films with more depth, but this one is a gentle way to spend a couple of hours, and plays on February 25 and 27.
Some of the best films don't ever get a theatrical release beyond PIFF, so jump in and see what you can before it's over!
Darleen Ortega is a judge on the Oregon Court of Appeals and the first woman of color to serve in that capacity. Her movie review column Opinionated Judge appears regularly in The Portland Observer. Find her movie blog at opinionatedjudge.blogspot.com.