Tests Offered for Airborne Metals Exposure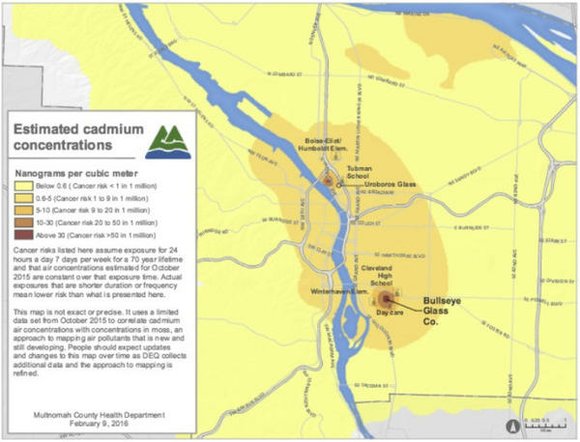 A major healthcare provider that enrolls thousands of people in the Oregon Health Plan and Medicare has issued a call concerning the risks from exposure to elevated levels of airborne metals found near two glass company sites in southeast and north Portland.
FamilyCare Health said it wants its members to know that testing for these heavy metals is covered by the insurer's plan and, if they are concerned, they should talk with their primary care provider about getting tested.
According to the Department of Environmental Quality, people who spent the most time within about one-half mile of either the Bullseye or Uroboros glass factories have the greatest potential for exposure to airborne heavy metals. Because the risk of emissions from glass factories can add to other exposures, the following is recommended:
Individuals and families are urged not to smoke or be exposed to second hand smoke because burning cigarettes release both arsenic and cadmium; a healthy diet including selenium (nuts, whole grains), iron (enriched cereals, meat, beans), calcium (milk products, leafy greens) and folate (beans, spinach, avocado) may lessen harmfulness from metals;
People are strongly encouraged to wash their hands after working or playing outdoors because soil can be contaminated with a variety of metals; and families living within one-half mile of factories should await further guidance before eating backyard produce.
"While the degree of exposure to people living near these factories is still unknown, FamilyCare supports the decision members make with their primary care provider regarding testing," stated Dr. Anna Jimenez, FamilyCare Medical Director. "We also encourage everyone to take pro-active steps to stay healthy by following the recommendations and getting regular check-ups."