Inside Ferguson
Portland author shares story in personal account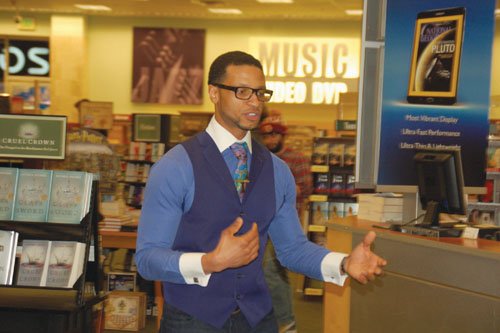 A front row seat into the turmoil and outrage that followed the police shooting of Michael Brown in Ferguson, Mo. and an insider's account of what was done and what failed to bring peace to the community, is being shared for Black History Month by a local black author and entrepreneur.
Devin S. James is the author of "Inside Ferguson: A Voice for the Voiceless," a first-hand account of the challenges he faced attempting to bridge the racial divide for a city that served a majority black population but lacked diversity in its administration and was resistant to change.
James is a public relations specialist and entrepreneur. His communications and community outreach services includes work with Karanja Crews, the esteemed Portland African-American teacher and inventor who advances education for students of color by addressing issues of equity and policy.
James said he moved to northeast Portland's Alberta neighborhood in 2013. A year later he earned a scholarship to attend the Minority Business Executive Program at the University of Washington's Foster School of Business. The experience helped him become a representative of the St. Louis Leadership Economic Development agency to officially work in Ferguson to improve relations between the city's black community and its all-white leadership.
"Inside Ferguson: A Voice for the Voiceless" is a multi-pronged thesis on institutional racism, cultural competence, implicit bias, and other social justice issues. The memoir details James' experiences working with Ferguson officials and the Missouri government immediately after Michael Brown was shot and killed.
James has firsthand experience with the criminal justice system. His autobiography tells about his roots growing up in poverty, suffering as an abused child, becoming a high school drop-out, and finally escaping life as a former gang member and transforming himself into an astute, educated communications professional.
He compares his rough and impoverished background to what many young men like Michael Brown face while growing up in poverty and other oppressive systems.
"Inside Ferguson" is his chilling account of the hypocrisies of Ferguson's leadership and the consequences he suffered when he tried to do his job and dared to become a voice for the voiceless.
The mentalities displayed by leadership in Missouri demonstrated "how devalued black people are in America," he describes in a profile of the book. "The leaders pretend to be concerned about the issues impacting the black community however, they refuse to listen to the needs of the community or make any significant changes. Rather than acknowledge systemic racism exists and try to understand why residents were offended by their actions, the leaders often defended their actions and denied any wrongdoing."
Inside Ferguson explores the subsequent character assassination that occurred when James pushed for real change.
"Ultimately, it's my hope that my book can help put the focus back on what really matters: Why racial inequality and discrimination is still a major crisis in America today. In the wake of Ferguson and similar tragedies occurring nationally, government officials across the country must examine the racist laws and policies that foster an environment in which the killing of black men and women is acceptable," he said.