Don't Want to See Mistakes of Past Repeated
The education inequality struggle
Marian Wright Edelman | 1/4/2016, 4:05 p.m.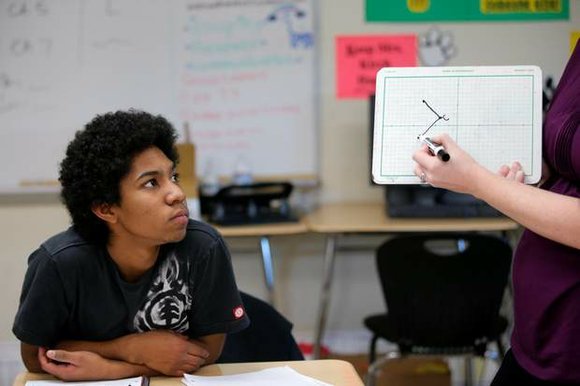 2015 was a hard year for poor children and children of color in a gridlocked and cantankerous Congress. The Every Student Succeeds Act replacing the No Child Left Behind Act was enacted after gutting a strong federal role in education policy designed to protect these children and jeopardizing their opportunity for a fair and adequate education to prepare them for work in our globalizing economy.
Over the past 50 years under the Elementary and Secondary Education Act too many states violated their responsibility to serve their poor and non-white children equitably, did not comply with the law and misused huge amounts of the funds intended for poor children for other purposes. With the loss of federal accountability in the new Act, I hope we will not see the mistakes of the past repeated and poor children fall further behind.
In 1969 the Children's Defense Fund's parent body the Washington Research Project and the Legal Defense Fund conducted a thorough study of how funds from Title I of the landmark Elementary and Secondary Education Act were being spent. It found that states widely used federal money as general state aid for all their children without targeting it to eligible children most in need, sometimes to maintain still segregated and unequal schools.
Massive and continuing state and local violations of accountability and poor achievement levels for the neediest children resulted in passage during the George W. Bush Administration of the No Child Left Behind Act with bipartisan support including Senator Ted Kennedy and Congressman George Miller — which attempted to build in a much needed stronger federal accountability role.
The new Every Student Succeeds Act begins a new era but without needed federal accountability and relying on hopes that all states will fulfill their crucial responsibility to educate all their children fairly and prepare them for work and life. To ensure we do not repeat the mistakes of the past, all of us — every parent, child and community advocate who cares about our nation's future — will have to work very hard.
It is nation threatening when we look at how our children in public schools are performing in the fourth and eighth grades in 2015 and see more than 75 percent of lower income children, more than 80 percent of black children and more than 73 percent of Latino children cannot read or compute at grade level. What is a child going to do in a competitive globalizing world if he cannot read and compute at very basic levels, is unable to graduate from high school, or is shunted into a cradle to prison pipeline accelerated by unjust zero tolerance school discipline and misdirected special education policies?
While states will set their own goals and timelines for academic progress, their plans will require federal approval. States will be required to help fix schools where student test scores are in the lowest five percent, where achievement gaps are greatest, and in all high schools where fewer than 67 percent of students graduate on time using evidence-based programs approved by the U.S. Department of Education.