In Loving Memory
Keith James
1/12/2016, 5:26 p.m.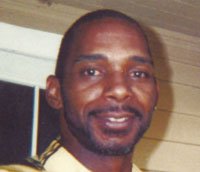 A memorial service was held Sunday in Portland for Keith James, a long time resident who died recently in California.
He was born May 30, 1965 to Herman and Charlene James in Redding, Calif. He was born with a twin brother, Kenneth.
Keith loved motorcycles, and was active member in the Aftermath Motorcycle Club of Sacramento until failing health caused him to retire.
He leaves to mourn his mother, Charlene James of Portland; brothers, Kenneth James (Bridget) of Sacramento, and John "JJ" Allen of Portland; sisters, Nadine Washington and Thelma Johnson, both of Portland; three sons, Keith Jr., Larry and Larome James of Portland, seven grandchildren; one aunt, Virginia Crockett of Portland; and two uncles, Charles Baldwin of Sacramento and Robert Baldwin of Portland.
He also leaves his brothers and sisters of the Aftermath Club, countless friends and other relatives, and one very special friend, Kathleen of Portland.