In Loving Memory
Arnold Anthony Pitre
1/12/2016, 5:22 p.m.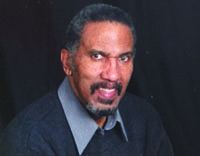 Arnold Anthony Pitre was born on Nov. 20, 1945 in Vanport to William Joseph Pitre and Wilma Lee Pitre.
He was baptized at an early age and became a member of Vancouver Avenue First Baptist Church where he was active in attending Sunday school and singing in the children's choir.
He grew up in north and northeast Portland, attending Boise Elementary, Benson High and graduating from Roosevelt High in 1963. Shortly after graduation, he joined the Air Force and achieved the rank of Airman 3 with posts in Texas, Colorado, Guam and California before his honorable discharge in 1967.
Returning to Portland, he attended Portland Community College and studied business administration receiving his associate's degree. He then studied at Portland State University where he met the love of his life, Judi. They married in July 1971 and from this union they raised four sons Kevin, Anthony, William and Tyrone.
To know Arnold was to love him. He had a way of always making others feel good and he had an uncanny and innate ability to make others laugh and relax. He was quite the prankster and was always able to find comedy in just about any situation.
He was also blessed with the gift of music. He played a variety of musical instruments, including piano, flute, harmonica and drums. He was an excellent vocalist and sang with the "Rose City Street Corner Singers, "Sons of Thunder," as well as the bass clefs at his church home. He also was quite the actor, performing locally in live theatre productions as well as a children's video. He hosted a local jazz show at KBOO radio for a number of years.
He worked and served in the community in many ways. He worked at Nabisco, Freightliner, and for the IRS as an auditor for a time before launching his own business "Pitre & Sons painting/contracting services." Along the way he was also a property manager for the Oregon Association of Minority Entrepreneurs, a Section 8 inspector for the Housing Authority of Portland, and a field operations manager for S. Brooks and Associates.

He leaves to cherish precious memories his wife Judi; his mother Wilma Lee Pitre; his sister Diane Jackson; brother-in-law Sam Jackson; his brother Billy Pitre; and sister-in-law Geri; his four sons Kevin, Anthony, William, & Tyrone; daughter-in-laws, Angela, Casey, Devon, and Rebecca; grandkids, Angelique, Antonio, Alexis, Jazmine, Tymone, Izaiah, Eric, Kainnen, Xayvier, Aspyn, Kylea, Alaisha, Jaleyah, La'Rayea, Kahmari, Neveah, Aniyah, Rashad, Kierra, and Nasren; nephew Michael (Julie) Rahsaan and niece Erica (Sam) West. He was a beloved family member and also leaves a host of cousins, aunts, uncles, and friends to cherish his memory.