Community Activist Turns 100!
1/19/2016, 5:10 p.m.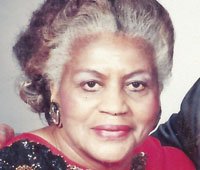 Since 1916, one local woman has beaten the odds in a long life dedicated to her family and community. Opal Strong turns 100 this month and family members are inviting the community to celebrate her centennial year with light refreshments and fellowship. The surprise birthday party will be held on Friday, Jan. 29 from 6 to 8 p.m. at the Life Change Church, 3635 N. Williams Ave.
In her decades of community service, Mrs. Opal Strong has advocated for senior rights, improving public transit, preserving the African American community in the Albina neighborhood, and other causes. She has been a Spirit of Portland Award recipient, a Portland Observer Mother of the Year, president of the Humboldt Neighborhood Association, and a member of the Albina Womens League, among dozens of other things.