Go Karts, Events and More
1/19/2016, 4:31 p.m.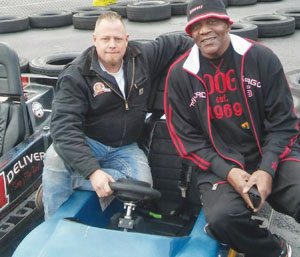 A local African American and his business partner are growing their Vancouver entertainment company with both fixed and mobile Go Karts tracks, meeting space for special events, and steps to expand operations with new locations.
Charles Lott, a talented black businessman known for supporting families, churches, and working with at-risk youth, and Chris Ray, known for his generosity and support for Flash Love, a local foster care home, are co-owners of Diamond R Go Tracks, Inc. located at 13510 N.E. Fourth Plain Rd.
The business is multi-purpose corporation that donates a portion of its proceeds to charity. The services it offers include corporate Go Kart events, business advertisements on the Go Karts; a safe environment for people preparing for driving permits and licenses, space for special events, and a mobile track that can be delivered to remote locations.
The co-owners said they recently purchased the former Vancouver Albertsons' store as a future site for the largest indoor Go Kart track on the West Coast. The space boasts 150,000 square feet for a super nightclub, restaurant, video gaming and a coffee shop. A third location in Longview off of I-5 at the Old Regency Theatre Building on the south side of the Three Rivers Mall is envisioned to include space for an outdoor Go Kart track, laser tag venue, restaurant, video gaming and an auditorium for shows and other entertainment.
Lott is accepting sponsorship/scholarship applications from non-profit community based organizations that work with at-risk youth. You can reach him for more information at 503-891-0036.
For more information about Diamond R Go Tracks, call 360-604-3068 or visit the company website diamondgokart.com.