In Loving Memory
Rose Marie Blackamore-Reasonover
1/26/2016, 2:58 p.m.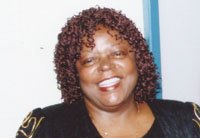 Rose Marie Blackamore-Reasonover was born Feb. 4, 1941 and died Jan. 19, 2016.
She was preceded in death by her husband William Edward Reasonover; mother Theresa "Marie" McDavid-Marsh; stepfather, Nedin "Pops" Marsh; father Elisha Blackamore Sr.; stepmother Margeree Blackamore; and brothers Vincent "Uncle Binky" Blackamore and Timothus Blackamore.
Survivors include her daughter and son-in-law Schawna and Jerome Cox-Tanner-El; aunt Lillie Rose Blackamore-Blackmon of Benton Harbor, Mich.; uncle Ezell "Uncle Shug" Blackamore of Kalamazoo, Mich.; sisters Lavora Smith (Arthur) of Kansas City, Mo., Olivia Blackamore of Washington, D.C., Loretta Woods of Flint, Mich., Zipporah Blackamore of Chicago and Lois Price (Alex) of Houston, Texas; and brothers Elisha "Uncle Geno" Blackamore Jr. of Chicago, Warner Blackamore (Mary) of Omaha, Neb., and Andrew Blackamore, Caleb Blackamore (Lisa), Hoshea Blackamore, Onesimus Blackamore (Ivonne) and Nathaniel Blackamore (Crystal), all of Kokomo, Ind.
Services will be held Saturday, Jan. 30 at New Hope Baptist Church, 3777 Wilcox Blvd., Chattanooga, Tenn., and interment will be on Monday, Feb. 1 at Chattanooga National Cemetery.