In Loving Memory
David Lee Stewart
1/26/2016, 2:57 p.m.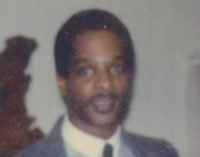 Funeral services for David Lee Stewart, who died Jan. 19, 2016, will be held Wednesday, Jan. 27 at 11 a.m. at Hughes Memorial United Methodist Church, 111 N.E. Failing St. A public visitation will take place Tuesday, Jan, 26, from 4 p.m. to 7 p.m. at Terry Family Funeral Home.

He was born in Portland on July 7, 1952 to Katherine Nacoste-Dorris and Nathaniel Stewart. He attended Boise Elementary School and in 1970 graduated from Jefferson High School. With his lifelong ambition and determination, he always achieved in the various jobs he held throughout his life, including work as a certified truck driver, landscaper and an in-home care provider. He loved drawing, playing chess, shooting pool, and back in the day, playing basketball and football, where as a running back, he was remarkable to see. With a beautiful voice, he could mesmerize you with his blue magic style of singing, and with his sharp dressing, he definitely had an impression on the ladies. But his greatest attribute was how he took pride in being a brother, and his loyalty to his mother and other siblings who he made it his business to protect from anything.
David is no longer here with us physically, but his gentle spirit and the memories of the love he gave all of us unconditionally are still within our hearts. For every holiday, birthday or special event in the future, we will continue to have his spirit present, for he will not let death keep him away. We remember how he was always in charge, especially when he would say "I'm the boss," "Don't be crazy", "Come on now I need you here", or "Have you forgotten how to feed the baby?" These words will forever ring in our ears and heart. For he meant every bit of it.
Know now that he's whispering softly in your ears, "It's okay, I love you all. Make sure you take care of momma, for I need you here now more than ever." Know that he has his arms wrapped around you, and if he could have stayed a little while longer, God wouldn't have taken him home to live in the place we are all promised if we just believe. So, until we see him again, hold on to the precious moments shared in our hearts forever.
Preceding him in death was his grandfather, Frank Nacoste Sr.; four aunts, Loubertha Jelks, Mary L. Nacoste, Loretha Nacoste and Mary Hayes; and a nephew, Richard Minnifield Jr.
He is survived by his mother Katherine Nacoste-Dorris of Portland; former wife Sherry Stewart; daughters, Quiana Allen (Virgil), Kekee Hayes and April Walker of Portland; son, David Lee Stewart Jr. of Portland; father Nathaniel Stewart of Compton, Calif.; brother Donald Nacoste (Donna) of Portland; sisters, Helen D. Brown of Opelousas, La., Danette Nacoste-Davis (Lonnie) of St. Louis, Mo., Joanne Nacoste of New Rhode, La., and Jacquetta Nacoste-Harris of Portland; caregiver Karen Casey; 15 grandchildren; aunts, Velma Nabors (Samuel) and Gwen Nacoste of Portland; uncles Joseph Nacoste and James Nacoste of Portland, and a host of nieces, nephews, great nieces, great nephews, cousins, other relatives and friends, who will miss him dearly.
Arrangements by Terry Family Funeral Home.