SEI to Close Academy
Student services will transfer to re-opened middle schools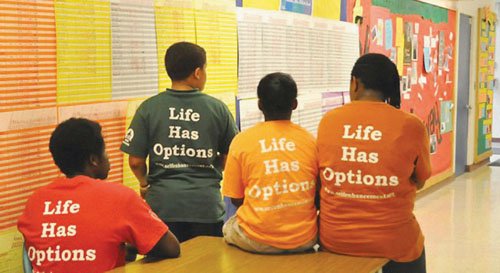 Local nonprofit Self-Enhancement, Inc. is shutting down their famed SEI Academy charter school at the end of the next school year and won't be accepting any more sixth graders for its closing year.
A letter sent to parents earlier this month from SEI President and Chief Executive Officer Tony Hopson provided some detail into the reasons for the closure, stating that there is no longer an existent need for their services now that Portland Public Schools is going to offer a standard middle school structure again in north and northeast Portland.
SEI's Academy started 12 years ago due to a lack of middle school options in the Jefferson High School area. Shortly after, as Hopson states in the letter, PPS switched to a K-8 structure which fully eliminated the typical middle school framework.
The district is now planning to re-open Ockley Green at North Montana and Ainsworth as a middle school for grades 6-8 in the coming year and the Tubman Campus located on North Flint Avenue will likely reopen as a grade 6-8 middle school by fall of 2017.
The SEI Academy was limited to about 50 students per year. Since there will be no incoming 6th graders and the current 8th graders will be moving on to high school level education, the 7th graders going into their next year will be the most affected, according to SEI's Strategic Partnerships Manager Lisa Saunders.
Grade 7 students will be moved into one of the other middle schools for their 8th grade year. The fate of the staff that works with the Academy pupils has not yet been figured out.
SEI intends to continue their services through PPS by collaborating with its student within the new middle schools, particularly focusing on minority pupils.
"We believe that now is the time to not only partner with Portland Public Schools to increase the SEI services at both Ockley Green and Tubman to make them the best schools possible for all students, but also to increase attention on our African-American students," Hopson wrote in the letter.
Tubman is the highest focus for Hopson because of its deep ties in the African American populated neighborhoods of inner north and northeast Portland and where PPS hasn't operated in its own middle school grades since the Young Women's Leadership Academy closed there in 2012.
The school currently hosts K-8 students from the Faubion School while that building is being rebuilt, but OPB reports the blueprint going forward for Tubman would involve pulling students from Boise-Eliot/Humboldt, King, Sabin and Irvington schools as the transition into elementary structures.
"We hope to fully integrate our efforts into Tubman Middle School going forward. It is our hope that given the past history of Tubman Middle School it would maintain an African American culturally specific option that our students can take part in," Hopson stated in the letter.
SEI has won praise for working with students enrolled in local schools. At Jefferson High School, for example, SEI mentorships have helped the school drastically improve its graduation rates. The alliance between the non-profit and PPS has produced graduate Sekai Edwards, for example, who has been accepted to Juillard for the upcoming term. JHS has also been named a Title I Distinguished School and the National Excellence in Urban Education Award winner with SEI assistance. Hopson hopes to transition SEI's achievements to Tubman specifically.
"We believe that Tubman ought to have an African-American focus in some form. What shape that takes, I'm not sure," Hopson told OPB. "But we expect that if we're involved, that we could provide additional culturally-specific services to the African-American students and any other students."