Teens Create App for Summer Activities
"I Am A #ForceOf" gives youth good alternatives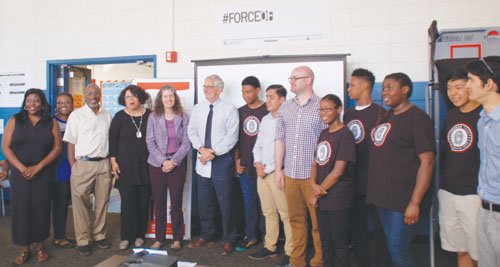 With summer here, a new cellphone app for teens is making accessing information to free recreational activities much easier.
A collaborative effort between Mayor Charlie Hales, iUrban Teen, Portland Parks and Recreation and the development team Cigna, has led to the development of the "I Am A #ForceOf" app which uses technology to inform young people on what free programs and services are available through Portland's community and recreation centers and on TriMet.
The idea is to promote safe and productive activities as an alternative to gangs and other less productive pursuits this summer and comes as part of Mayor Hales' Community Centers Initiative, a $2 million effort to provide free programs geared to young people. In its first year, 12,000 kids had free access to teen programming and recreational community center events.
"This project was Portland at its best: built for teens, by teens, with city and community support," Mayor Hales said at the app's soft launch last Thursday at the Matt Dishman Community Center in Northeast.
iUrban Teen is a nationally recognized program that connects marginalized groups of youths age 13-18 with hands-on educational based career opportunities, with a specific focus on African American, Native American and Latino demographics. A group of iUrban teens with worked with Cigna on the functionality and app design of "I Am A #ForceOf" to further ensure its receptiveness for its targeted audience.
"iUrban Teen and our incredible volunteers are helping to close the digital divide and get underrepresented groups involved in tech," Mayor Hales said.
Gabriel Coleman, a 15-year-old iUrban teen who primarily worked on the design of the app, gave a demonstration of the app's different facets.
"It was extremely fun and I loved every part of it," says Coleman. "I could see myself doing tech and app design in the future."
The app is now past its beta stage but isn't commercially available to download. Both the Android and Apple app stores are reviewing the app for consideration and the city plans to officially announce when the app will be available. Until then, the app can be accessed via browser at teenforce.meteorapp.com.