Beaumont Girls Repeat
Champs to represent Oregon in Arizona
7/12/2016, 4:18 p.m.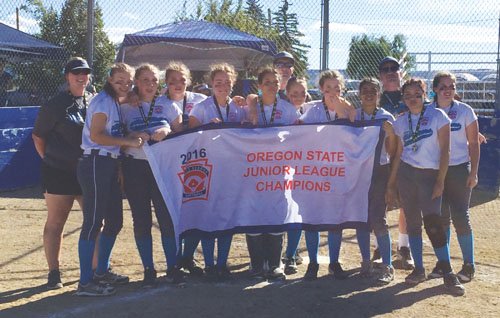 Congratulations to the Beaumont Junior Girls Softball Team from northeast Portland who has won a state champion for a second year in a row. The team is welcoming any donations to help its expenses as it heads to Arizona on Friday to advance to the regional tournament.
Team leaders say the goal is to raise $15,000. A pay pal account has been set up to accept contributions on the league website beaumontsoftball.org.
With only 10 players, the team has had overcome several struggles with illnesses, injuries, and other factors this year. Five of the girls played on last year's championship team and five new players are joining them in Arizona.
"We received so many compliments from other teams on our girls and their sportsmanship," team officials said, about last year's regional playoff experience which was held in California. "Teams were cheering for us, people in the town of Tulelake, and they all believed our girls are what softball is about. We are very excited to go to Arizona and represent Oregon."