Bike Share System Debut
1,000 rental bikes to dot inner city
7/12/2016, 5:05 p.m.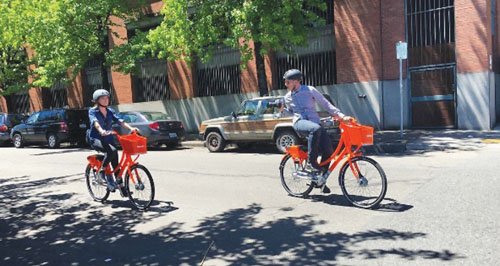 Biketown, Portland's new bike share system is ready to launch with 1,000 bright orange rental bikes dotting downtown and close-in neighborhoods.
Starting on Tuesday, July 19, customers who sign up for the service will be able to check out a bike using a smartphone, a computer, a member card, or by typing in their member number and PIN into a keypad.
The Portland Bureau of Transportation, in cooperation with the Nike-sponsored Biketown organization, a company operated by Motivate, the world's leading bike share operator, has installed 100 inner city stations where the bikes will be available. The system was designed for quick trips with convenience in mind, as well as a fun and affordable way to get around.
Annual memberships for Biketown will cost $12 per month, and include 90 minutes of riding time each day. Single-ride passes for $2.50 and 24-hour passes for $12 will also be available for those who want to use the program more occasionally, including tourists.
Nike designed Biketown's standard bike, which is modeled after the Nike orange shoe box. For a map and more information about the rental bike service, visit biketownpdx.com.