Downtown Housing Saved
REACH celebrates reopening
7/12/2016, 5:11 p.m.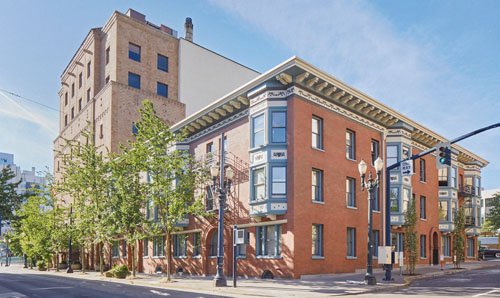 On Friday, July 15, REACH Community Development will celebrate the grand re-opening of the Bronaugh Apartments, a three story, 50-unit historic apartment building located in downtown Portland.
In order to preserve and maintain much-needed affordable homes for seniors and disabled residents on fixed incomes, REACH purchased the building in 2013 and oversaw a substantial renovation, including a seismic upgrade to bring it up to current code.
Built in 1905, the Bronaugh is listed on the historic registry and was last renovated in 1982. The building has been carefully renovated with modern comforts, while retaining and restoring its elegant, historic character.
With an expiring Section 8 contract and hot real estate market, the Bronaugh was at risk of being converted to market rate apartments, displacing its senior and disabled residents. REACH purchased the building to preserve the housing for the residents, several of whom have lived in the building for over 20 years.
Funding for the project was provided by the Portland Housing Bureau, Oregon Housing & Community Services, Bank of America Merrill Lynch, Network for Oregon Affordable Housing, and the U S Dept. of Housing & Urban Development. The development team included Walsh Construction Co., Carleton Hart Architecture, and the Housing Development Center.