Protests and Vigils
Community and police respond to shootings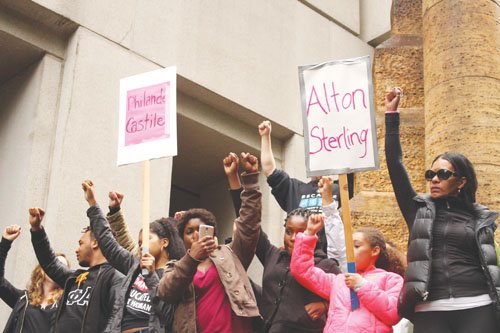 Portland joined protests and vigils all around the country in the wake of last week's apparent revenge shooting of five police officers in Dallas, Texas, and the deaths of two black men at the hands of police a few days earlier in Minnesota and Louisiana.
A sweeping march in downtown Portland on Thursday to protest the officer-involved shootings started before the Dallas violence and temporarily closed the Morrison Bridge as an estimated 1,000 people gathered to demand police reforms. Activist groups Black Lives Matter and Don't Shoot Portland were at the forefront of the demonstration.
In an attempt to keep the peace between the police and the community, Portland Mayor Charlie Hales issued a statement that the Portland Police Bureau would respond with as little force as possible. He also pledged to continue city investment in young people and work to keep guns out of the hands of youth by lobbying the Legislature and Congress for stricter gun control.
The protest was somewhat interrupted by a videographer, Michael Strickland, who was caught brandishing a Glock handgun during a dispute with protesters. Police arrested him on charges of disorderly conduct and menacing.
Marches to demand police reforms in the wake of officer-involved shootings continued all weekend across the country. Police departments across the nation also held gatherings in honor of the fallen Dallas officers, with Portland's taking place this past Sunday at the Police Memorial at Tom McCall Waterfront Park.
Detective Nathan Sheppard, attended the event, calling for a positive solution to the tension between cops and African Americans.
"Returning violence multiplies violence," Sheppard said."Hate cannot drive out hate. Only love can."
The president of Portland's Police Officers Union Daryl Turner echoed these sentiments, expressing the need to build a good relationship between police and the community.
"This is not the time to take the 'us vs. them' mentality," Turner said.
Memorials and calls for justice were also held Sunday at Augustana Lutheran Church, a diverse congregation in northeast Portland, and First AME Zion Church, a historically black church at North Vancouver and Skidmore.
At a press conference Monday, Dallas Police Chief David Brown offered a symbiotic solution to the problems of trust between the black community and police.
"We're hiring," Police Chief Brown said. "We'll put you in your neighborhood, and we will help you resolve some of the problems you're protesting about."