A Step Backwards for Police Diversity
Command shuffle leaves out African- Americans
Dr. LeRoy Haynes Jr. and Dr. T. Allen Bethel | 7/12/2016, 5:09 p.m.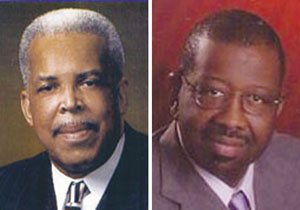 The recent developments with the investigation and retirement of Police Chief Larry O'Dea, the demotion of the assistant chiefs, and particularly Kevin Modica, plus the appointment of a new chief of Police Mike Marshman can either turn us backwards or propel us forward in transforming the Portland Police Bureau into a 21st Century community policing era.
More than 12 years of constant struggle by the Albina Ministerial Alliance Coalition for Justice and Police Reform has propelled us to the intervention of the U. S. Department of Justice and the "settlement agreement" accepted by Judge Michael Simon.
The implementation of the agreement has been far from perfect. Obstacles, hindrances, detours, resistance, as well as success in a few key vital areas have made a bumpy ride the first two years of implementation.
The future success or failure of the settlement agreement in transforming the Portland Police Bureau and creating 21st Century community policing is critically dependent on the kind of leadership we have from the chief of police to the assistant chiefs, to the command staff, as well as supervisors.
We need leadership in the police bureau, in city government and in the community who will embrace the vision of community policing that will be effective and relevant as well as implementing the settlement agreement.
The demotion of Assistant Chief Modica and the lack of African- American presence on the command staff or the assistant chiefs is a "step backward" to creating a leadership team that will meet these goals.
We are living in a critical time in Portland and our nation. A time in which cities across America, as well as the city of Portland are "crying out" for police accountability. Uprisings have erupted through major cities; gang violence has intensified particular in black communities. The failure to have an experienced, relevant African -American voice at an assistant chief or command level is a detriment to the welfare of the city.
"Where do we go from here?" Dr. Martin Luther King, Jr. asked at the crossroads of the modern Civil-Rights Movement. Is it backward or forward?
A costly price has been already paid in blood, sweat and tears. Let us move forward to create a new and fresh model for the city of Portland and the nation.
Dr. LeRoy Haynes Jr. and Dr. T. Allen Bethel are chair and co-chair of the AMA Coalition for Justice and Police Reform.