Expanding Reach for Future Connect
Program breaks barriers to a college education
7/19/2016, 4:57 p.m.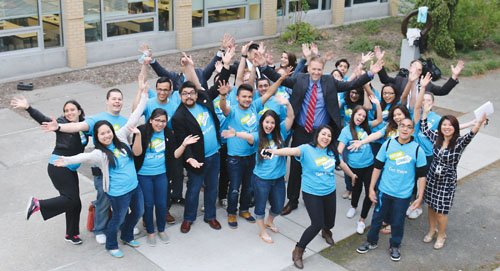 There are 1.3 million reasons why Portland Community College's Future Connect Scholarship Program is looking bright.
The PCC Foundation-funded program that breaks down barriers to college for low-income, first-generation students was recently awarded a $1.3 million grant from the Oregon Higher Education Coordinating Commission to broaden the reach and impact of its services in the Portland area.
The money was allocated as part of the state's new "Aspirations to College" legislation, which recently disbursed $3 million to similar community college programs throughout the state.
The funds will help PCC provide nearly 3,000 students with critical services and support. This includes 480 new students being able to access coaching, instruction and transfer assistance. Program staff will also be able provide outreach services to more than 2,500 high school students residing within PCC's service area. The Future Connect staff will increase from eight to 13 by the end of the summer.
"The Future Connect team is excited about how the grant will positively impact our capacity to serve students better, earlier and further into their college careers," said Josh Laurie, PCC Future Connect manager.
In addition, some of the grant money will go toward bolstering other college programs that serve similar student groups. These include PCC's Fostering Success and Project Degree programs, as well as funds for the purchase of 47 laptops available for check-out by all PCC students at college libraries.
Celebrating its fifth anniversary, the Future Connect Program has had 1,200 students come through its doors. Support to make the program thrive also comes from the cities of Portland, Beaverton and Hillsboro and from donors.
Future Connect provides scholarships, in-depth advising and college success coaching to low-income and first-generation students so they have a guided path through college, all the way to completion of a certificate or degree.
To mark its five years, Future Connect leaders will pursue an external evaluation of the program to measure its impact and to determine areas of improvement.