Preschool Promise Adverse to Albina Head Start
New requirements fail kids of color, advocates say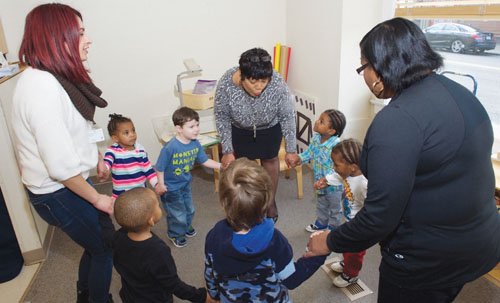 Early education serves as an important avenue for a child's transition into their future formative years, but recently implemented legislation could negatively impact some of these children culturally.
A shift in requirements rolled in by the Oregon Preschool Promise demands a Bachelor of Arts degree from present and future early development educators, which could potentially hinder the needed educational relationship between minority students and their culturally experienced preschool instructors.
Part of the legislation, which passed in December, is beneficial. The Oregon Department of Education's Early Learning Division seeks to award a handful of early learning facilities with funded contracts that would expand preschool options across the state. But the attempt to increase the quality of instructors in the process risks isolating kids of color, especially at Albina Head Start, the most diverse Head Start staff in Oregon, a program with a decade of flawless federal reviews and annual local audits.
According to longtime backers of the organization, the legislation devalues the experience of well-trained instructors who have deep cultural knowledge and parenting experience to create good learning conditions for some of our most vulnerable children.
Kali Ladd, executive director for the KairosPDX Early Learning network, says the problem with Oregon Promise is that there are "unintended consequences." KairosPDX is a non-profit organization that tackles some of the consequences of Portland's low minority graduation rates and educational inequity.
The group provides culturally competent consulting and services to current in-home providers and families, friends and neighbors who serve under-represented youth including low-income youth and youth of color.
KairosPDX has been in place in Portland for years, including Albina Head Start, whose instructors risk being negatively affected by the Preschool Promise decree.
"In my 40 plus years with Head Start, I have seen absolutely no connection between a BA and a good teacher," says Ron Herndon, the director of Albina Head Start. "This is not about professionalizing; we don't need this veneer of respectability placed upon us by people on the outside that feel this is going to help."
According to Herndon, Albina Head Start has the most diverse demographics of both students and staff in Oregon, with around 56 percent of the children being black and approximately 42 percent identifying as Latino. In terms of the demographics of teachers, Herndon says the staff's ethnicities approximate the children.
Part of what upsets Ladd and Herndon, who have been working together in exposing the possible aftermath of the Promise legislation, is that there isn't any existing proof that a Bachelor's Degree has any affect on the validity of a preschool educator.
"People continue to build upon this myth that this will professionalize the occupation of a preschool teacher and perhaps it looks good to someone who doesn't know, but I've seen people come into the program with BAs and children run them out of the room," says Herndon. "For terms of what you get for what you invest, it's not a good investment."
That's not to say Herndon or Ladd feel a higher educational degree is a total waste, but in terms of a BA being a necessity to properly handle children, it means little.