Preschool Promise Adverse to Albina Head Start
New requirements fail kids of color, advocates say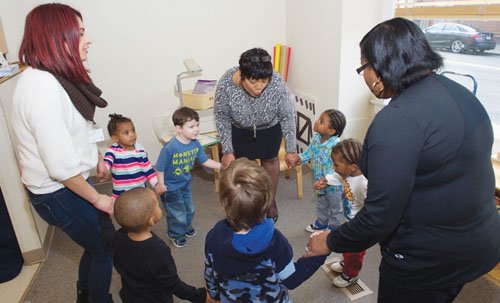 Ladd received her BA in Elementary Education from Boston College and a Masters in Education Policy from Harvard University, so "for her to say that a BA doesn't give you any better experience in education, that's saying something" according to Herndon.
Head Start has a Center Training Assistant (CTA) Program which integrates interested parents into a career in early childhood development by offering paid training and classroom instruction as well as a substitute position once training is complete. Since 2010 alone, 70 parents have been hired on as educators with CTA.
Another important factor to consider is the financial barrier preschool educators face returning to college.
Sandy Stevens, who instructs parents in the Head Start CTA Program at Mt. Hood Community College, sees this as a major concern along with the high turnover rate that comes when preschool teachers with degrees are hired away by competing forces.
"We cannot compete with the salaries of a school district," says Stevens. "I've been with Head Start since 1985. It's a good program. I've earned my BA and my Masters over time and people wonder why I choose to stay. I like the work that I do for this community and I don't want to leave it."
Per Oregon's Quality Rating and Improvement System (QRIS) standards, the higher the degree of the instructor, the higher star rating the facility or program receives and this puts additional pressure against the experienced preschool teacher who lacks the advanced degree.
Further, a higher star rating gets a facility or program more funding, which again proves a problem for retaining proven and existing early development educators.
"It neglects the needs of communities of color," Stevens says. "We've got staff members that speak nearly 30 languages at Head Start, yet we don't get a high star rating. I just don't see it as being very fair."
Since the legislation is still fairly green, the repercussions have yet to be completely evident. To Herndon, whatever complications arise will only burden an already lagging educational system.
"Education is about 30 years behind. They're not concerned about our outcomes; they're concerned about our pedigrees. That's why we're so behind compared to rest of the world," says Herndon.
"We would not have Apple or Dell computers, Microsoft or Facebook -- none of them were started out of a BA degree, those were started out of practical training and personal experience. If it's okay for high tech, why would we not dumb down our expectations for teacher performances to be consistent with a myth about teacher preparation?" Herndon says.