Clinton Ascends to Nomination
Hillary makes history as first woman to lead major party as presidential candidate
7/26/2016, 4:42 p.m.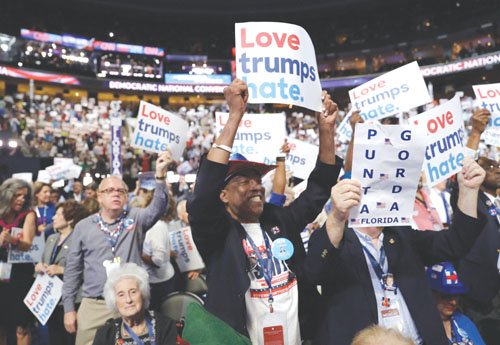 A glass ceiling shattered at the Democratic National Convention as Hillary Clinton ascended to the presidential nomination with Tuesday's roll call of the states, the first woman to lead a major party into a White House race.
Clinton now heads to the November General Election in a campaign for president that was briefly interrupted in 2008. Back then, she conceded the Democratic presidential race to Barack Obama in a speech that lamented "we weren't able to shatter that highest, hardest glass ceiling this time," but she added proudly, "it's got about 18 million cracks in it," a tally of her primary votes.
Bernie Sanders robustly embraced his former rival Monday night as a champion for the same causes that enlivened his supporters, signaling it was time for them, too, to rally behind her in the campaign against Republican Donald Trump.
"Any objective observer will conclude that — based on her ideas and her leadership — Hillary Clinton must become the next president of the United States," he declared in a headlining address on the opening night of the Democratic convention.
Sanders joined a high-wattage lineup of speakers, including first lady Michelle Obama who made a forceful, impassioned case for the Democratic nominee. Mrs. Obama's address all but wiped away earlier tumult in the convention hall that had exposed lingering tensions between Clinton and Sanders supporters.
Mrs. Obama, who has spent nearly eight years in the White House avoiding political fights, took numerous swipes at Trump, all while avoiding mentioning him by name.
"This election and every election is about who will have the power to shape our children for the next four or eight years of their lives," she said. "There is only one person I trust with that responsibility, only one person I believe is truly qualified to be president of the United States, and that is Hillary Clinton."
While Sanders had endorsed Clinton previously, his remarks Monday marked his most vigorous and detailed praise of her qualifications for the presidency. It came at a crucial moment for Clinton's campaign, on the heels of leaked emails suggesting the party had favored the former secretary of state through the primaries despite a vow of neutrality.
--Associated Press