Runner Wins Gold
Jefferson senior achieves at state
Nadine Elhanafi | 7/26/2016, 3:55 p.m.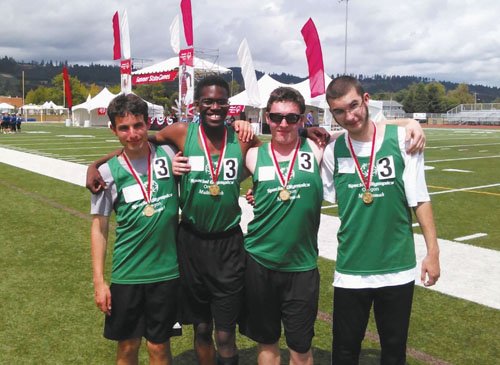 The Olympics are just a couple of weeks away, but we don't have to be an Olympian to demonstrate a commitment to something we love to do. Mason Williams, a 17-year-old who has autism is an excellent example of this.
Williams is a senior at Jefferson High School in north Portland who enjoys playing video games, swimming, and most importantly – loves being on the track team.
Less than two weeks ago, he went to Newberg to compete in the Special Olympics Summer State Games. Although it was his first time competing, Williams successfully completed and won the 100 meter dash, 200 meter dash, and 4×100 meter relay.
Williams expressed that he enjoyed representing the autism community at state and winning, but what he really enjoyed was being on a team, I met people from other teams and got really close to people. I made a lot of new friends," he said.
Although it was Williams' first time going to state, he's no stranger to running track. He has competed indoor against other teams on numerous occasions, and won first place!
Whether it's during season or off season, Williams spends his days in the weight room training. He is striving to be the best he can be.
Williams expressed that the gold medals didn't come easy, but that it was his determination that brought him the success.
He expresses gratitude to one of his biggest supporters, his mom, who he said he appreciates "for coming to his meets even if she can or cannot make it because of her health or if she's busy."
Williams hopes to go to college at the University of Oregon and be on their track team. In the future, he would love to be a Special Olympics Coach to spread his positivity and encouragement to others. Who could be a better leader?
Williams has shown from a young age that he's committed to representing the autism community in a positive light. He hopes to prove to those who question the abilities of people with autism, or any other disability, wrong by showing them that they are capable of achieving great things.
Williams is working to show people that differences are not deficits, and you could say he's definitely on the right track.
Nadine Elhanafi is a writer for the Autism Association.