Health Leader Nominated for PDC
6/1/2016, 11:39 a.m.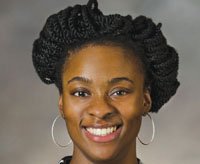 Dr. Alisha Moreland-Capuia, a homegrown leader from the African American community and an accomplished physician, has been nominated to serve on the board of the Portland Development Commission by Mayor Charles Hales.
In Thursday's announcement, Hales said Moreland-Capuia has a breadth of professional and volunteer experience that will give PDC expertise in Portland's rapidly growing health care industry and insight into difference facets of our community.
The City Council must approve the appointment.
Dr. Moreland-Capuia is co-founder of the Capuia Foundation and executive director of Oregon Health and Science University's Avel Gordly Center for Healing. She is also an assistant professor of public psychiatry at OHSU.
She has served on the Oregon Historical Society Board; the Oregon Health Policy Board Healthcare Workforce Committee; I Have a Dream Oregon board; Governor's Council on Alcohol and Drug Abuse Programs; and was appointed by Mayor Hales to the Community Oversight Advisory Board, which oversees police reform outlined in the U.S. Department of Justice settlement agreement.
"I am excited about the opportunity to join the PDC, as I will be sure to offer a different perspective and frame," Moreland-Capuia said. "The city is changing and progressing rapidly. That progress must be tempered with perspective — in this case, broader, wider, deeper and different perspective."
She would replace Aneshka Dickson on the five-member commission. Dickson's term runs through July 1, and Moreland-Capuia's will begin July 2.