Jefferson Relay Team Pride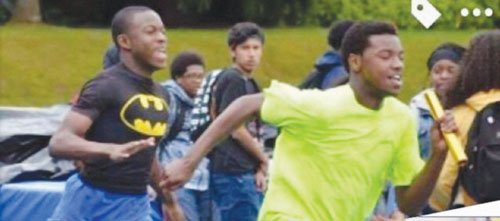 Congratulations to the boys 4X100 Relay team at Jefferson High School for a successful season by pushing themselves to the limit.
Despite a fair share of strife amidst changes in the lineup and two members dealing with sick parents at home, the team banded together runners Mason Williams, Nashon Jefferson, Jeffrey Ward and Romeo Akil to qualify for both the Portland Interscholastic League and the 6A state track and field championships.
The team out ran both Grant and Wilson to make it to state, but it was close. Jefferson's 43.93 seconds time was better than Grant's 43.97 seconds, but it tied with Wilson, making track officials get down to the brass tacks of milliseconds. Looking at the times at hundredths of a second, the Democrats ending time was 43.924 seconds to Wilson's 43.929 seconds.
The state championships were held on May 20-21 at the University of Oregon in Eugene and the Jefferson team ran a relay time of 44.63 seconds, placing them in 8th place for their first heat. The finish was short of a title, but still a great accomplishment.