YouthPass Sought for All
Justice groups point to unequal treatment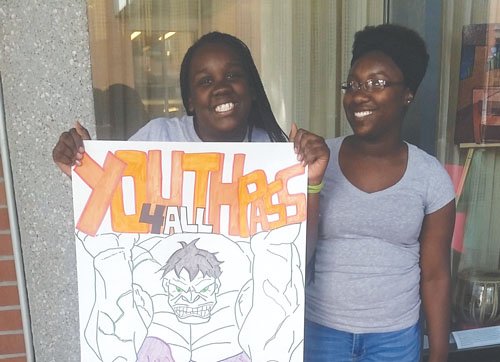 Not all school districts in Portland are treated equally. That has become more apparent as the Youth Environmental Justice Alliance and OPAL Environmental Justice Oregon struggle to get a YouthPass program expanded that provides free TriMet transportation services to students in Portland high schools who do not live within walking distance of their school.
The biggest problem is that YouthPass doesn't reach past the attendance areas of the Portland School District, leaving the predominately minority Parkrose and David Douglas High Schools stranded if the students live outside walking parameters or have missed the school bus.
Activists with the two nonprofit groups want Multnomah County to live up to the standards established by the Multnomah Youth Commission's official Bill of Rights and to fund transportation services for all high school students, insuring that all local youth have a successful educational experience.
A youth transit report issued last month surveyed 2,500 East Portland students detailing their transportation needs. It found that with 54 percent of David Douglas students being minority, and 76 percent classifying as low income, many students' parents either cannot afford daily transit passes or are in positions where they cannot provide an alternate means of transportation to school.
The report also shows that over half of students at Portland's Franklin High say the program has made them less likely to miss class and nearly half utilize the program to participate in after school activities and internships.
YEJA and OPAL held a recent rally at Multnomah County Chair Deborah Kafoury's office to present their need.
"As a student who currently has YouthPass, since I go to Franklin High School, I'm extremely disappointed to hear that the county doesn't find the program important enough to fund it. I believe that without YouthPass, I wouldn't be the successful student that I am today," says student and YEJA member Mayleena Robinson.