Alarm Grows Over Toxins
Public health responds to widening threat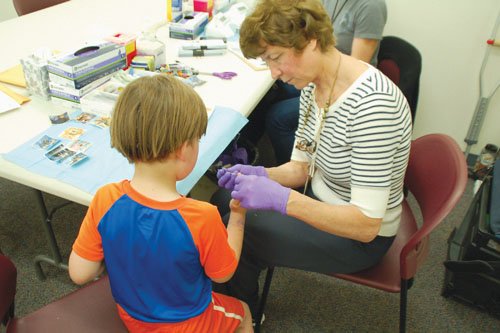 Portland parents and citizens have found themselves on high alert as discoveries of toxins in the air and the water are increasing.
It began earlier this year when the public was informed of high concentrations of cadmium, chromium, arsenic and other carcinogenic metals in the atmosphere around glass manufacturing plants in southeast and north Portland.
Next, parents were left in a panic at the discovery of lead in Portland Public Schools, prompting the district to apologize for delays in shutting off water sources impacted by lead in faucets. Over the past few days, the school district also reported that it had discovered Radon in some classrooms, and Portland Parks and Recreation found that it too failed to shut off faucets contaminated by lead, possibly for years at the Multnomah Arts Center in southwest Portland. The arts center serves children and is a meal site for seniors.
Multnomah County Health Department officials are responding to the growing public concerns.
"The county has a really interesting role in that we don't regulate lead in the water or radon, and those (toxins) aren't in our buildings," said public health information officer Julie Sullivan-Springhetti. "But the people in those buildings are our residents, and Multnomah County cares about health."
Under the backdrop of a Change.org petition calling for Portland Public Schools Superintendent Carole Smith's resignation over the toxicity issues, and others demanding more action from government officials, education on the home front can offer some preventative safety tips.
"There's always a little bit of lead floating around in your liver and your muscles," says Dr. Zane Horowitz of the Oregon Poison Center. "Levels between 0-5 (micrograms/deciliter) aren't unusual for kids that live in an inner city environment."
Since lead was used in everything from paint to children's toys to piping for hundreds of years, its presence is still prevalent in many of Portland's older homes and buildings. The problem, Dr. Horowitz says, lies in the length of exposure time and the height of levels in the blood stream.
According to the health department brochures, extended exposure to lead can cause learning and behavioral problems, brain damage, speech impairment, stunted growth, liver damage, seizures and coma. Severe cases can be fatal.
Dr. Horowitz says a binding agent called Succimer, also known as Chemet, is a prescription for treatment that can bind metals in the body and help excrete the toxins over a period of time.
"It does take a while," says Dr. Horowitz. "Sometimes it could take months or as high as a year depending on how long they've been exposed to it and the levels in their body."
Horowitz says blood lead levels need to be or exceed 45 micrograms/deciliter to receive a Succimer treatment.
The risks for high lead levels would be lower in school because a child is in attendance for limited hours.
"You can ask your child if they drink a lot of water at school. If it's just a sip every now and then, there's probably not the highest risk of them having high levels in their system," explains Dr. Horowitz.