Police Panel Departure Explained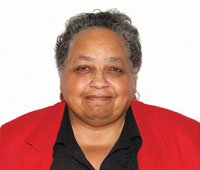 Kathleen Saadat, a long time and esteemed Portland racial justice activist serving as the chair of the Portland Police reform monitoring Community Oversight Advisory Board has indicated that discord surrounding police reform issues did not influence her decision to retire.
Saadat recently announced that she would be resigning from her position after taking part in the panel for only a year, but told the Portland Observer that the departure was only because she's ready to slow down. She plans to continue her writing and painting while staying connected to the community, but won't be obligated to a working position.
"I'm 75 years old. I came out of retirement to take the position, and I committed for a year and now I'm going back into retirement," she said. "I don't know why it's hard for people to believe that I just want to retire and relax. It's wearing me down, and my health matters."
Saadat replaced former Oregon Chief Justice Paul DeMuniz after he stepped down in April of last year. She said the police oversight board has on-going issues that do need to be addressed, but not anything bad enough to cause her to leave.
Maintaining a good sense of humor on the situation, she said, "To quote Thurgood Marshall about his retirement-'Hell, I'm old!'"