Students Learn Hands-On
Real-world meaning comes with outreach
6/7/2016, 1:16 p.m.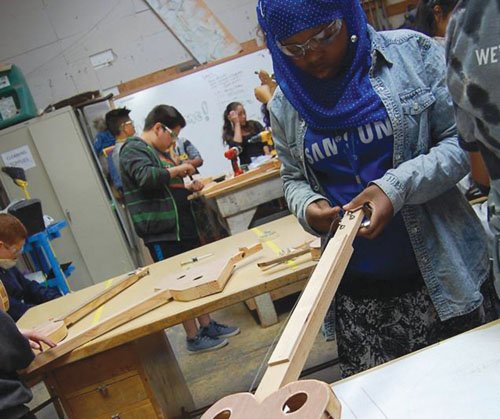 North Portland's The ReBuilding Center and Portland Public Schools are teaming up to bring science, technology, engineering, art and math skills to nearly 200 seventh-graders.
With help from their classmates, teachers, parents, ReBuilding Center volunteers, staff, and partners, students are engaging in a hands-on learning process where failure, experimentation and creative solutions are encouraged.
In the last few weeks, a group of middle school students from West Sylvan and Cesar Chavez have designed and built their own three-string guitars using repurposed and donated materials. Two more groups from Lane and George middle schools started the process this week.
This initiative is part of the ReBuilding Center's new ReFind Center—a fully equipped wood shop intended to educate and serve the community. Each class spends three days learning the scope of what is possible, prototyping their designs, and working with local fabricators, designers, and other role models to apply real-world meaning to their classroom learning. Students learn about design processes that apply to everything from architecture to software development.
This initiative gives teachers the opportunity to show the relevance of their lessons while students put new meaning to esoteric subjects such as how sound and sine waves relate. This project was co-developed by the ReBuilding Center's Volunteer Services Manager, Dave Lowe, and makerspace expert Mike Alfoni.