Driving to Make a Difference
6/8/2016, 11:54 a.m.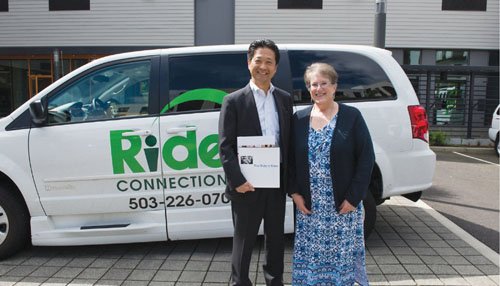 Improving accessibility and bringing transportation solutions to the elderly and disabled is the goal of a new partnership with Toyota to promote and support volunteer driver programs in 50 states.
As part of the local outreach, Toyota North America last month donated $5,000 to the non-profit Ride Connection to help meet the ever growing demand for rides in Multnomah, Clackamas, and Washington counties.
Ride Connection provides public transit services that help pickup senior citizens and take them to doctor's appointments, shopping trips and community events. The service is one of the organizations affiliated with the National Volunteer Transportation Center.
Toyota awarded $400,000 to the national group as part of its new partnership, including the donation of two vehicles, a 2016 Toyota Prius and a 2016 Mobility Sienna, to help more than 800 volunteer driver programs in 50 states, the District of Columbia and Puerto Rico.