Champion Boxer, Activist and World Icon
Muhammad Ali was my idol
Marc H. Morial | 6/14/2016, 3:12 p.m.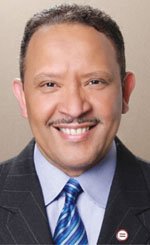 How would you approach the colossal task of describing a man who once boasted that he, "wrestled with alligators, tussled with a whale, done handcuffed lightning and throw thunder in jail? Only a man you allow to define himself—in his own colorful words—which is what Muhammad Ali did his entire life and throughout his legendary boxing career.
Cassius Marcellus Clay Jr. was born where he was buried: Louisville, Kentucky. His mother was a cook and house cleaner and his father was a frustrated painter with big dreams, dreams he would pass on to both his sons along with this constant refrain— "I am the greatest."
Ali's legendary boxing career began with a beloved, stolen bicycle. The $60 red Schwinn was a Christmas gift from his father, and it would set the wheels in motion for an angry 12-year-old kid who claimed he would "whup" the person who stole his bike, to step into a ring, pick up boxing gloves and fight for justice. It was a defining moment and a trope that would shape his professional and personal life.
Ali was a great fighter, but his fights were never limited to the inside of a boxing ring. Ali's career was teeming with personal success, but every win in and out of the ring was a win for every man or woman who ever felt attacked, or had to bob and weave past the ferocious jabs of social injustice. Ali was a professional athlete, but he used that platform to make an impact that transcended pugilism. Famous people often take up causes, but Ali is the greatest because he stood up for his principles and made consequential sacrifices on behalf of those causes.
After winning a gold medal in the Rome Olympics and beating Sonny Liston for the heavyweight championship, the newly crowned 22-year-old champ renounced his given name, Cassius Clay, as a "slave name" and revealed that he was a member of the Nation of Islam. His new faith and his new name drew intense controversy and lost him many fans, but he persevered and successfully defended his title every time he stepped in the ring.
In 1967, Ali was drafted to serve in the Army during the height of our nation's war in Vietnam. He refused to serve, saying, ""I ain't got no quarrel with them Viet Cong," and requested conscientious-objector status from fighting against people he said never lynched him or put dogs on him. No slight of hand in the ring, head fake or lightening quick shuffle was as bold as Ali's refusal to fight in a war he did not believe in. The reaction was swifter and harder than the punches of any opponent Ali had ever faced. Many called him a traitor. Ali was convicted of draft evasion, stripped of his heavyweight title and banned from boxing. While he wasn't locked up for sticking to his conviction, he was locked out of the sport the brought him to fame. He sacrificed four years of his career and untold millions rather than renounce his anti-war stance.