Connecting to our Waterways
Environmental educators lead big canoe trips
6/14/2016, 3:16 p.m.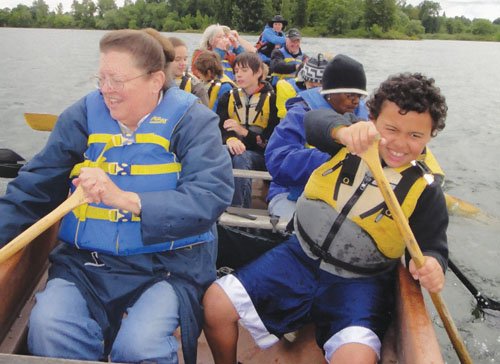 You're invited to get out on the water in one of the big canoes of the Lower Columbia Estuary Partnership.
Throughout the summer, the nonprofit organization leads guided canoe trips along the lower Columbia River and its tributaries in the Portland-Vancouver area. Paddlers enjoy observing birds and wildlife from a one-of-a-kind on-water perspective. The partnership's experienced environmental educators lead the group outings on stable 29-foot, 14-person canoes. Evening full moon paddles, birding paddles, and picnic paddles are all offered.
No paddling experience is necessary. Trips are family-friendly and suitable for all ages 5 and older. Paddles and personal flotation devices in standard sizes are provided. All Estuary Partnership community paddles are at no charge, with donations gladly accepted.
Reservations are required. Online reservations open 6 weeks before each of the 11 paddle dates which begin June 20 and continue through Aug. 25. Space is limited and available on a first come, first served basis. For more details and to register, visit estuarypartnership.org/get-involved/canoe-paddles.
The Estuary Partnership was established in 1995 by the Governors of Washington and Oregon and the federal Environmental Protection Agency to advance science and get on-the-ground results in the lower Columbia River and estuary.