Horror, Anger and Healing
Pride week dampened by gay club massacre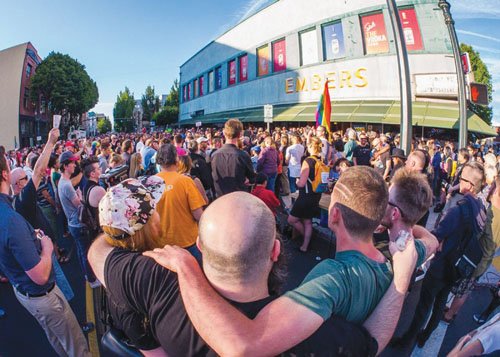 Early Sunday morning a lone gunman entered a gay nightclub Pulse in Orlando, Fla. during a Latino themed dance night, ending the lives of 50 people and injuring 53 in what's considered the deadliest mass shooting in U.S. history.
The club posted this note at 2:09 a.m. on their Facebook page, a quick cautionary warning to horrific bloodshed that was to come: "Everyone get out of Pulse and keep running,"
The suspected gunman, identified as Omar Mateen, a U.S. citizen born to immigrant Afghanistan parents, was shot dead by police after a gunfight and the taking of hostages. Mateen swore allegiance to ISIS in a 911 call made before the shootings and had been investigated by the FBI for possible ties to terrorists in the past, officials said.
While family, friends and investigators in Florida are steadily working on identifying victims and holding memorials, LGBTQ communities in other cities, including Portland, are expressing deep support for Orlando and trying to figure out how to keep gay pride festivities annually held each June as safe as possible for participants.
Portland's Pride celebration is kicking off this week from a place of condolence and concern of safety.
Vigils were held in solidarity for the Orlando victims on Sunday including one in front of Embers, a historic gay nightclub in the Pearl District off of Northwest Couch and Broadway.
Mayor Charlie Hales was one of the speakers at the ceremony along with acting Police Chief Donna Henderson. Both tried to assure the lesbian, gay, bisexual, transsexual and queer community that violence against them will be conquered by the advancement of civil rights and love.
Mayor Hales also shared his thoughts on the tragedy via his Twitter account, stating in separate tweets how Portland stands in support of Orlando, and sharing a video of him raising a rainbow flag to half-mast at City Hall in honor of those who lost their lives in the shootings.
"My heart, and the hearts of all Portlanders, goes out to everyone affected by the tragedy in Orlando. It is shocking, horrifying, unacceptable; we must stand together in support of our LGBTQ communities," Hales said. I'm calling on all Portlanders to hold our LGBTQ community close, and come out in a show of force against terrorizing people because of who they love."
The Portland Police Bureau also stated in a press release that acting Chief Henderson will be ramping up security for the upcoming Pride festivities, especially at nightclubs and bars most frequented by members of the LGBTQ community.
"The way to safety is to be a community, not to huddle indoors," Mayor Hales told OPB in regards to showing support at the approaching Pride events.
Community organizers at Pride Northwest, sponsors of the city's Pride parade and waterfront festivities, addressed their feelings towards the community with heavy hearts.
"When senseless violence rocks our world, it seems as if the sorrow is too great to carry and the darkness too great. There aren't any words to heal the wound; our love goes out to the survivors, friends, and families of the victims of the Orlando shooting. We stand with you," a statement by the group said.
Tragedies like what occurred in Orlando can spark an increased sense of community and such has proved more than true with the vigils held in Portland and the wealth of support expressed toward the LGBTQ community.
"It's heartbreaking to think that people were having a good time with friends one moment and the next they're running for their lives," said black bisexual photographer Clifford Prince King. "It could've been anyone of us in any other city. This event should remind us that nothing is promised and we have to love one another while we know we can."
The Q Center is welcoming those that need to discuss their feelings about the shootings in a private or group setting. They can be reached at 503-234-7837 and are located at 4115 N Mississippi Ave.