Youth Symphony Enlists Memory
Esteemed musician and educator will direct jazz band
6/15/2016, 10:56 a.m.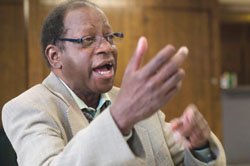 Trumpeter, composer, and educator Dr. Thara Memory has been enlisted to direct the jazz band for advanced students at the Metropolitan Youth Symphony.
Memory has a long history in music education and helped start the jazz program for the youth symphony over 10 years ago. He has taught courses at Portland State University, Portland Community College and Marylhurst University, and worked with award winning high school band programs at Portland's Wilson High School and Beaverton's Arts and Communications Magnet Academy.
He mentored Portlander Esperanza Spalding, partnering with her on her Grammy award-winning "City of Roses." In May 2015, his American Music Program's Pacific Crest Jazz Orchestra won Lincoln Center's Essentially Ellington high school jazz band competition, and he is this year's inductee into the DownBeat Jazz Education Hall of Fame.
"Dr. Memory is a passionate, committed musician and teacher who is a master at seeing the unique potential in each of his students. We are thrilled for our musicians to have the opportunity to work with him on a weekly basis, and to experience first-hand his wisdom and heart for music," says Youth Symphony Executive Director Diana Scoggins.
Auditions for the jazz band will be held Aug. 25. To register to audition go to playmys.org or call 503-239-4566.