Third Death at Strip Club
Skinn's stabbing revives community concerns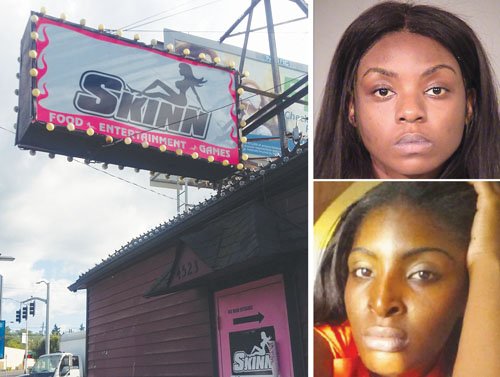 A dancer was killed in homicidal violence at a northeast Portland strip club last week, reviving community concerns in the Cully Neighborhood over an establishment that has experienced three murders in the last five years.
Friends at the scene of the June 15 fatality reported that Shantina Turner, 29, was stabbed in the neck by Rinita Linelle Lowe, 23, during an argument while having a drink outside the club around 11:30 p.m. Medical personnel responded but were unable to save Turner and she died at the scene.
Police were able to immediately arrest Lowe, as she sought refuge in a neighboring 7-Eleven, where two police officers were inside getting coffee. She was charged with murder and unlawful use of a weapon.
Crime scenes aren't that unusual at Skinn's as both staff and locals recall the two other murders at the establishment.
Anton Hill, a father of five children at the time, was shot and killed outside the establishment back in 2013. Another man, Deon Moisan was shot five times in the chest outside the club back in 2011 when it was under the business name JD's Bar & Grill. Reports at the time claim he was celebrating his 24th birthday and that his death was gang related.
Former Skinn bouncer Jason Gleason remembers both of these incidents, believing it's due to a lack of experienced security personnel.
"Even if you have the most experienced bouncer in that place, something's gonna happen. They're gonna get overwhelmed," Gleason told KATU.
A childhood friend to the latest victim, Candice Edwards, agrees with Gleason, adding that bouncers at the establishment aren't really taken seriously.
"The bouncers really don't look like bouncers, they look kind of frail and kind of like maybe [they're] intimidated themselves, like they really don't secure," she told KPTV.
Donna Taylor, who has been living near the club for the last three years, told reporters that violence at Skinn's has increased and that the business should cease.
"We need to close that place down, it's not good for the neighborhood, it's bad for kids, it's just no good," Taylor told KPTV Fox 12.
Calls from the Portland Observer to Skinn Gentlemen's Club management for comment were not answered.