A Riveting Take on Abortion Divide
Ashland play 'Roe' accords dignity to complex points of view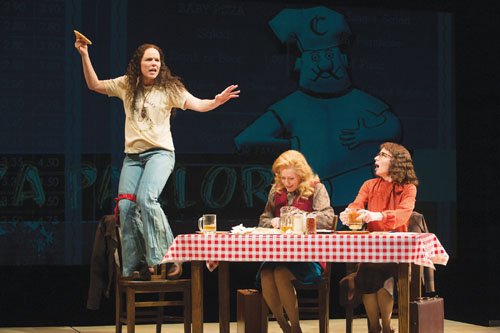 In 1971, a young woman named Sarah Weddington argued Roe v. Wade before the U.S. Supreme Court. (Then age 26, she is still the youngest person to do such a thing.) By the time she argued the case, Norma McCorvey (known for case purposes as Jane Roe) had missed the window of time to obtain the abortion she had sought -- predictable from the outset, though perhaps not to McCorvey -- and the two women could hardly have approached the case from social locations that were more different. From the very beginning, the case meant different things to the two women, an example of the many divides of culture and privilege that have fueled and followed the landmark decision.
More than 40 years later, the 1973 decision that the two women and their collaborators obtained persists in dividing Americans more than almost any other issue. Yet we arguably have evolved not at all in our understanding of the social forces that drive the rifts between those who support and those who oppose abortion rights.

The Oregon Shakespeare Festival, as part of its American Revolutions cycle of plays exploring significant moments in American history, saw the opportunity to open up understanding by focusing on the remarkable stories of individuals engaged on all sides of this struggle -- beginning with McCorvey and Weddington, but not ending there. OSF commissioned playwright Lisa Loomer for the task, and she has found a way to grapple with a dazzling array of complex points of view on all sides of these issues and to accord them all dignity. The resulting production, beautifully directed by Bill Rauch and featuring a wise and stunning cast, plays in Ashland through the end of October.
The production is well-oriented to its times and places, beginning with Weddington's circle of second-wave feminist friends exploring "Our Bodies, Ourselves" and beginning to think strategically about how to advance issues of concern to women, concerns that men would never pursue. The play devotes some time to the social context in which Roe v. Wade arose, and the women leaders who drove it, many of whom, like Weddington, were just finding their voices in legal and political arenas that were hostile to women. The few women who had a shot at framing such efforts tended to be white and relatively privileged -- but they experienced such virulent marginalization that they did not consider themselves privileged, and often did not have much awareness of how burdens on reproductive rights might be experienced by women of color or other women who experienced more economic and educational disadvantages.

Of course, the case was decided by an all-male Supreme Court unaccustomed to addressing the dilemmas faced by women across the spectrum of relative privilege. Though not, strictly speaking, a courtroom drama, the play cannily stages a bit of Weddington's Supreme Court experience with recordings of the actual justices' questions, giving a flavor of how the decision came to be framed in a way that was subtly focused on the concerns of doctors and their medical judgments rather than the concerns and rights of women.