Honoring Gladys McCoy
New building will retain leader's name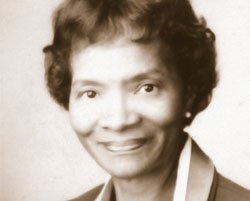 Gladys McCoy, a name synonymous with advancing the cause of the black community in Portland and defending the rights of families and children, will remain the name of the Multnomah County Health Department headquarters when it moves to a new location, downtown.
The decision to retain the honorary name was approved by the Multnomah County Commission last week in a resolution presented by Commissioner Loretta Smith.
McCoy was elected to the Multnomah County Board of Commissioners in 1978 and re-elected in 1982. In 1986, she was elected county chair and re-elected again before her death in 1993.
She earned a master's degree in social work from Portland State University in 1967 and her social services work for Portland Head Start propelled her to run for public office. She was elected to the Portland School Board in 1970 and served two four-year terms.
Smith's resolution honors McCoy for her considerable accomplishments, including setting up a social service program in the former Columbia Villa housing project, relentlessly working to stabilize county funding, expanding and meeting county affirmative action goals, increasing citizen participation in government, increasing minority representation on county boards and commissions, and standardizing the county's charitable contribution program.
Multnomah County is undergoing the planning and design process to relocate its vital health department headquarters from the Gladys McCoy Building at 423 S.W. Stark St. to Northwest Sixth Avenue, between Hoyt and Irving streets in Old Town/Chinatown.