City takes legal action against homeowner
Time runs out on nuisance complaint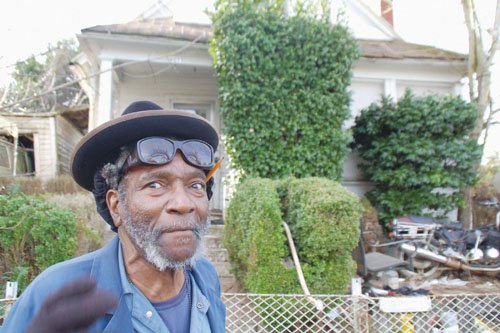 High drama is playing out in northeast Portland where the city of Portland is taking legal action against a long time activist in the African American community to enforce a nuisance complaint.
Time has run out for Joseph "King J" Harris as contracting crews have arrived at his home of 30 years to clear away the possessions in his yard, on his porches, and surrounding almost every square foot of his 1904 home.
The city Bureau of Development Services says after a six year struggle they went to court to obtain a search warrant to remove all trash and debris and non-trash items stored in the outdoor areas of the property, using whatever reasonable force is necessary to gain access, including police officers if necessary.
Harris has not interfered with the crews as the items are loaded by the truckload and hauled away, but he is fiercely opposed to the removal, which is still not finished after two weeks.
Harris, 66, is a lifelong Portland resident who has been active in advancing justice issues for his community. He ran for mayor back in 1976 and 1980. He got his nickname for the rallies and speeches he led in the late 1990s to free Mumia Abu-Jamal, an activist journalist who was considered a political prisoner as he sat on death row in the killing of a New York police officer.
His current cause is advocating for the creation of a Black History Museum in Oregon, and Harris said some of the items being carted away from his home were pieces he prized as future artifacts for the museum. Mostly the removal of property violates the very essence of freedom of ownership, he said.
Portland code specialist and inspector Wayne Bates said the city tried to get Harris to reduce his collection, but instead it increased to the street. The enforcement is under Title 29 of a city code regulating nuisance properties.
The costs associated with the removal and the potential for large fines could be applied as a lien against the home and could threaten Harris' ability to continue living on the property.
Harris learned early in life that owning a home was a way to be self-sufficient. He bought his first home in Portland when he was just 19. Now he's at risk of becoming the latest member of the black community to face displacement, joining the thousands of other longtime residents who can no longer find affordable housing in close-in city neighborhoods.
He also represents the elderly who find it difficult to keep up with house maintenance, and the costs and fines he faces could put him at risk of becoming homeless.
Harris says the city has not given him any accounting of what it will charge for the removal of his personal property, and a cost estimate was not readily available from the city when the Portland Observer sought more information. Harris says there were threats of assessments of $500 a day and he claims the personal loss for the seizure of his possessions alone could run in excess of $150,000.