In Loving Memory
Jewel Overton
3/2/2016, 10:32 a.m.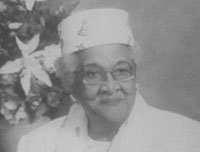 Mrs. Jewel Overton at the age of 93 was called home to rest on Feb. 19, 2016. She was born in Riesel, Texas on Dec. 8, 1922 to Charlie and Luella Thomson.
She was a dedicated member of Fellowship Missionary Baptist Church in Portland. She retired from the Social Security Administration in 1988. She was also a LPN with Kaiser for 30 years and worked as the only female welder at the shipyards.
Jewel had five siblings; sisters Velma A. Moore, Charlie-Bell Henry, and Ruby Lee Talton, and brothers Henry Carl Thompson and Madison Thompson who preceded her in passing. She now leaves to cherish her memories, her children Gail Murray, Tommie Lloyd, Denise Overton-Lewis, and Lisa Overton-Washington and husband Charlie Washington; grandchildren Shelonda Simpson, Kevin Simpson and wife Sarina Stevenson, Dominique DeGrate, Dionna Gatlin, and Jamari Lewis; 11 great-grandchildren; two great-great grandchildren, five step-children; and many nieces, nephews, cousins, and friends.
A funeral service will be held Thursday, March 3 at 11:30 a.m. at Fellowship Missionary Baptist Church, 4009 N. Missouri Ave with Rev. Johnny Pack presiding. Viewing will take place at the church, beginning one hour prior to service at 10:30 a.m.