Attorney General Addresses Police Issues
Says Portland sets example of work ahead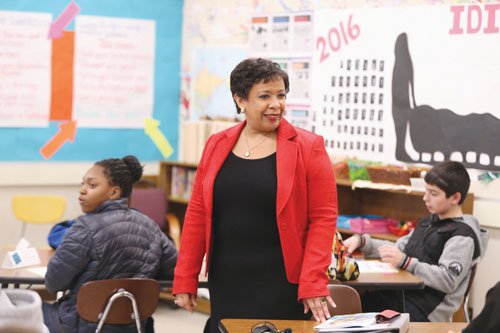 Portland is making some progress in addressing unfair outcomes as it relates to racism in the local criminal justice system, but more work is needed, according to the nation's top law enforcement official.
Attorney General of the United States Loretta Lynch, President Obama's chief law enforcement official, recognized the city's efforts to address police issues during a visit to the Rose City on Thursday.
Lynch said the Portland Police Bureau has improvements to make in how it engages with local residents, including Portland's black community, but pointed to some of the actions the city has already taken as "a positive work in progress."
A 2012 investigation by the U.S. Department of Justice found Portland police engaged in a pattern of excessive force against the mentally ill. Changes to Portland policies, training and oversight are coming as part of a negotiated settlement of a lawsuit that was generated by the federal probe.
In addition, a Racial and Ethnic Disparities report issued last month by an independent researcher at the request of Multnomah County found that people of color are negatively impacted in greater numbers relative to whites at every stage in the journey through the local criminal justice system.
Lynch said it was important to visit Portland because some of the work being done to improve policing for local residents can be useful for other communities who are struggling.
"We have here the community advisory board, the community compliance liaison, and I was just informed by the chief that they are working on a structure within the training division that would have community involvement with police training," she said.
Lynch visited George Middle School in north Portland and the Blazers Boy and Girls Club in northeast Portland to talk about community-police partnerships that build trust, foster cooperation and enhance public safety. The visit was part of a national community policing tour to engage with law enforcement and other members of the community to implement key recommendations from the presidents' Task Force on 21st Century Policing.