Modern Art Learning Power
King students open art museum
3/9/2016, 10:21 a.m.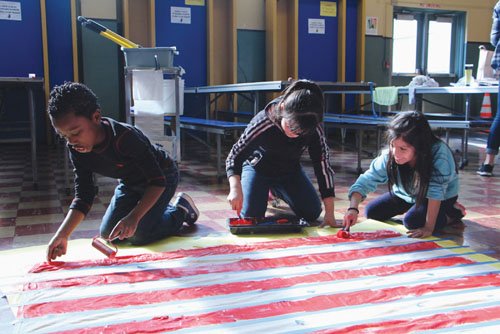 Two new art exhibits created and curated by students at King Elementary School will be open to the public on Thursday, March 10.
The King School Museum of Contemporary Art is a contemporary art museum inside the northeast Portland school that has been created with the help of students and faculty in Portland State University School of Art and Design.
PSU students worked with Ms. Ellis's third-grade class to recreate famous artworks from the online collection of the Museum of Modern Art in New York City.
For "Civil Rights: Through Our Eyes," Ms. Putney's fifth-grade class created a collaborative video, music and dance project exploring the Civil Rights Movement and the ways it affects their lives today.
An opening reception to celebrate the accomplishments will be held Thursday, March 10 from 4 p.m. to 6 p.m. Light refreshments will be served.