Monitoring Finds Lower Health Risks
Toxins fall after curbs by glass manufactures
3/22/2016, 4:31 p.m.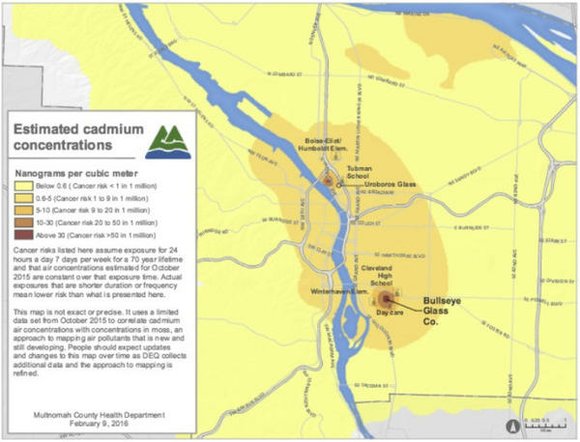 New data from air and soil samples collected around Bullseye Glass Co. in southeast Portland and Uroboros in north Portland, as well as of soil samples collected at the Tubman school building site in north Portland, reveal there is no immediate or urgent public health risk under current conditions, state health officials say.
The Oregon Department of Environmental Quality, Oregon Health Authority and Multnomah County Health Department released the analysis Thursday responding to concerns about air monitoring that took place in October that showed high levels of heavy metals, including cadmium and arsenic.
In response to the earlier readings, DEQ secured understandings with the manufacturers to stop use of the toxic metals in production. The air sampling readings released last week taken from the vicinity of Bullseye and Uroboros showed no readings above health benchmarks. That seems to indicate the glassmakers were the prior source of the pollutants, officials said.
"Today's information marks another important step in understanding the impact heavy metals released by glass companies have had on the surrounding neighborhoods," said Lynne Saxton, Oregon Health Authority director.
Saxton said the new test results, while encouraging, don't mark the end of the agencies' work. Rather, they establish a baseline against which to measure changes in conditions over time.
"We'll report this information every week. The community can view it on our website, SaferAir.Oregon.gov," she said.
The agencies expect to complete two comprehensive public health assessments by this fall.