Oregon to Face Powerhouse Duke
Ducks only Pac-12 team to advance at NCAAs
3/22/2016, 3:53 p.m.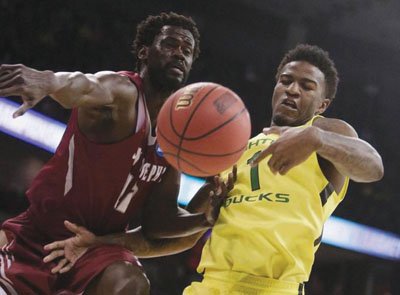 (AP) — Dillon Brooks refused to let top-seed Oregon and the Pac-12 Conference be eliminated on the first weekend of the NCAA Tournament, scoring 25 points and leading the Ducks to 69-64 win over No. 8 seed Saint Joseph's in the second round of the West Regional on Sunday night.
Oregon (29-6) was carrying the banner for the rest of the Pac-12 after the conference posted a collective dud on the opening weekend. Five teams were sent home in the first round, including Oregon State, and Utah was routed by 11th-seeded Gonzaga in the round of 32, leaving the Ducks as the lone conference representative.
The Ducks will face No. 4 seed Duke, a perennial powerhouse and the defending NCAA champion, in the regional semifinals on Thursday.
Oregon had to rally from down 58-51 in the final five minutes to advance to the Sweet 16 for the first time since 2013. Brooks started the rally with a driving three-point play and put Oregon in front for good on a 3-pointer with 1:19 remaining.