Investing in Manufacturing Research
PCC wins support to build center on apprenticeship model
3/23/2016, 12:02 p.m.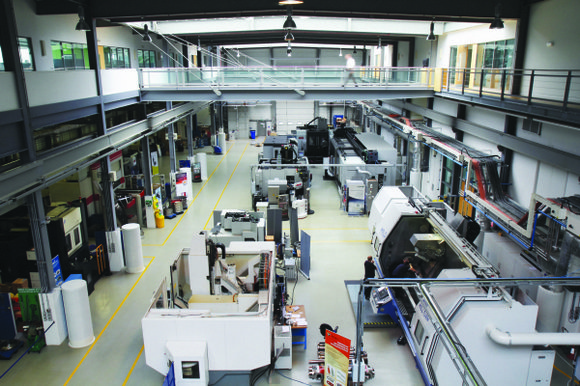 Big news came out of the Oregon Legislature with the announcement of $7.5 million to be appropriated to Portland Community College for the creation of an Advanced Manufacturing Research Center.
The project, built on the synergy of regional industry, academia and government stakeholders, is based in part on an apprenticeship model developed by Boeing and the University of Sheffield in England to address critical manufacturing challenges through applied research and advanced technical training.
The state's investment will be added to $9.4 million in bonding authority from Portland Community College to support educational opportunities in Columbia County, west of Portland, where the center would be located. Additional sources of financial support potentially include private and public investors and federal grants.
"This is an investment not just in high tech manufacturing, but in our workforce, in regional job growth, and our state's economic future," said Gov. Kate Brown. "Today we are taking an important step forward, developing a world-class community where instruction, research, design, and manufacturing intersect for the benefit of all."
Initial efforts will focus on training for students through industry-sponsored skilled apprenticeships that lead to postsecondary credentials and family-wage jobs. This will be led by PCC as the educational accrediting partner. Advanced manufacturing research activities will be led by local university and research partners such as Oregon State University, Portland State University and the Oregon Institute of Technology.
"As the state's largest higher education and workforce training institution serving a five-county region, Portland Community College is thrilled to collaborate with a consortium of local partners to support this transformational opportunity," said Sylvia Kelley, interim president of PCC.
Additional stakeholders and potential partners include Boeing and other regional metals manufacturers, the Oregon Employment Department, the Bureau of Labor and Industries, the AFL-CIO, Greater Portland Inc., the Oregon State Building and Construction Trades Council, the International Association of Machinists and Aerospace Workers and IBEW 48.
Collectively, efforts to create a local AMRC will facilitate the long-term goal of developing an "Oregon Manufacturing Innovation District" in which stakeholders share costs and pool resources and attract potential new partners. Long term, project partners anticipate this leading to high-value manufacturing companies and their supply chains co-locating, resulting in significant impact to and vitality for Oregon's economy.
"This project presents an exciting opportunity for Boeing and other industry partners," said Mike Starr, general manager, Boeing Oregon, which employs more than 1,650 staff who oversee complex machining and building of gear systems and flight controls. "Several partners are coming together to problem-solve at the same time they're creating opportunity for students and industry through training, research and development. It's a fantastic approach, and we're very supportive of it."
Boeing has experience creating successful AMRCs with willing partners. Its first was in 2001 in Sheffield, England, in collaboration with the University of Sheffield. Together, the partners transformed a 400-acre empty lot in a depressed region of the country into a renowned manufacturing center that today employs 2,000 engineers and apprentices, assists 500 manufacturing companies with training and innovation, and has had a $1 billion impact on the economy.
Since then, numerous centers worldwide have been successfully replicated from this model. The goal is to produce a similar outcome in Oregon supported by a variety of partners.
"The Machinists Union is a strong supporter of this endeavor, one we believe will advance our trade and positively accelerate the scope of Oregon's workforce," said Noel Willet, ADBR, IAM District W24. "Creating apprenticeship and training programs is key to attracting new business and family wage jobs. And it's crucial that we all work together to create a dynamic workforce with the additional skills required as manufacturing advances through research."
Next steps for PCC and collaborating partners include nurturing workforce development relationships with local metals manufacturers and developing curricula for industry-supported apprenticeships.
"A center like this enables us to bring together experienced teams who lend capital investment, equipment and expertise, and funnel that support to benefit students we're educating and training for jobs in an industry that offers growth and opportunity," said Kelley.
"The Advanced Manufacturing Research Center model has a proven track record, and it's exciting to think of how much Oregon stands to benefit by creating one here," she said.