Urban League Job Fair to engage, educate and empower
Making career connections
3/23/2016, 11:51 a.m.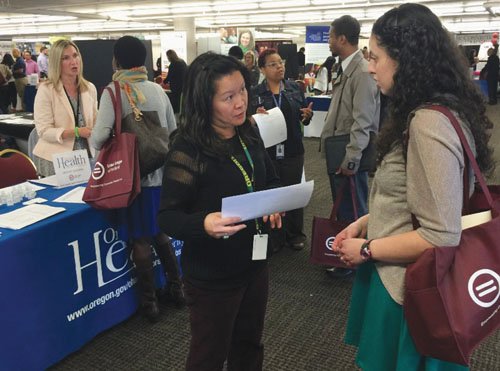 On Tuesday, April 5, job seekers will have the opportunity to meet face to face with recruiters from over 70 of the area's most desirable employers at the Urban League of Portland Career Connections Job Fair.
The annual event is one of the Urban League's larger ongoing efforts to engage, educate, and empower Oregon's workforce.
The Urban League works with employers year round to engage job seekers through a variety of means including targeted recruitments, employment and employment resources referrals, job postings, one-on-one assistance and career counseling, employment readiness training, youth employment programs, meet the employer events, and job shadowing.
Job seekers who come to the career fair come from a variety of backgrounds and are looking for a wide range of opportunities.
Organizers of the event also make great efforts to ensure that the industries and career opportunities included are as diverse as the job seekers attending. Employers will be hiring for a large range of positions in a large range of fields and will be looking for people of all experience and skill levels.
Recruiters from federal, state, county, and city governments will be there. Paid apprenticeship programs like roofers, waterproofers, electricians, and carpenters will be represented. Nonprofit organizations will also be recruiting. Job seekers and career changers of all experience and skill levels are encouraged to attend.
This event is free and open to the public and conveniently located at the DoubleTree Hotel near Lloyd Center with transportation access by both MAX and TriMet bus stations.
The Urban League of Portland, founded in 1945, helps empower African Americans and other Oregonians to achieve equality in education, employment, and economic security.