Vigil for Man Killed Crossing Cully
Family and neighbors call for safety improvements
Hugs, tears and fond memories were shared for a long time member of the black community who was killed by an alleged drunk driver while trying to cross a dangerous section of Cully Boulevard in northeast Portland.
A crowd of about three dozen people came together for a vigil Thursday night in memory of Patrick Curry, 58, who died March 19 when he was hit by an alleged drunk driver at Northeast Cully Boulevard and Mason Street.
Many wore sports apparel from Curry's beloved Dallas Cowboys.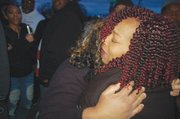 He was the perfect son who visited his mom each day, Curry's mother, Katherine Curry, said through tears while attending the memorial.
The lack of traffic safety improvements for pedestrians on Cully, where the roadway between Fremont and Prescott streets is wide and where sidewalks are narrow or non-existent, has been a long time priority for the neighborhood.
It's a traffic safety hazard residents have been fighting for years, according to Cully Association of Neighbors Transportation Board Member Laura Young.
Those gathered at the vigil also wanted to take a stand against drunk driving.
The driver of the vehicle involved in the traffic fatality was arrested for driving under the influence of intoxicants, reckless driving and second-degree manslaughter. William Hurst, 29, also had a prior DUI on his record, officials said.