Nourishing the Community
New Seasons expands to University Park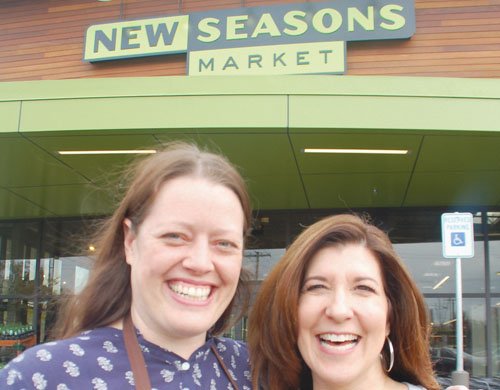 New Seasons Market, the locally-grown chain of grocery outlets that puts a premium on fresh, healthy foods while giving back to the community, has expanded its reach by opening its third location in north Portland.
The University Park New Seasons Market opened last week at 6300 N. Lombard St. with a grand opening celebration. The 25,000-square-foot store brings 120 new jobs to the community and supports an employer which embraces diversity in its hiring.
At New Seasons, the employees look like the people who live in the neighborhood because the company hires a diverse workforce from the local community. The grocer now with 19 locations in Washington, Oregon and California is also prized for good pay and benefits and putting a premium at sourcing food from local growers and supporting local nonprofits.
"New Seasons is a place where residents can connect with the community, discover new foods and engage with the friendly staff and their neighbors," said University Park Store Manager Erin Leiker. "This store, with its central location, great food and community gathering places, is going to be a commons for this neighborhood."
Leiker, along with many of her staff, have lived in north Portland for years, she said.
New Seasons Market promotes itself as a neighborhood grocer with a people-first culture that builds and sustains relationships for the greater good. The company donates 10 percent of its after-tax profits to local nonprofit organizations and promotes environmental stewardship. Each store also partners with local hunger relief organizations and gives directly to local schools and foundations.
The University Park store, which anchors a dynamic community of busy students, professionals and families, features a laidback outdoor seating area with recycled milk jug lounge chairs. Inside, abundant New Seasons chef-prepared selections – from hot pot pies to sandwiches and charcuterie – present delicious, convenient grab-n-go meals to enjoy onsite or at home.
For technologically-minded shoppers, New Seasons is equipping the University Park store with location-based beacon technology. When it pilots the program later this year, customers can opt in to receive in-store mobile offers.
In celebration of the store opening New Seasons is supporting through their Bag It Forward program the Portland Parks and Recreation's Summer Playgrounds and Lunches Program, which serves Portland's most vulnerable families, providing free lunches for those in need to help bridge the hunger gap created by school breaks
"Our Summer Playgrounds and Lunches Program is very aligned with New Seasons' commitment to investing in organizations that increase access to fresh, healthy food for children and families in the neighborhood," said Portland Parks Commissioner Amanda Fritz. "We cannot meet the need in our community and achieve our mission of equity and inclusion without valued sponsors including New Seasons."