Undefeated for Two Championships
Trinity Lutheran celebrates
Raven Pearce | 3/30/2016, 11:27 a.m.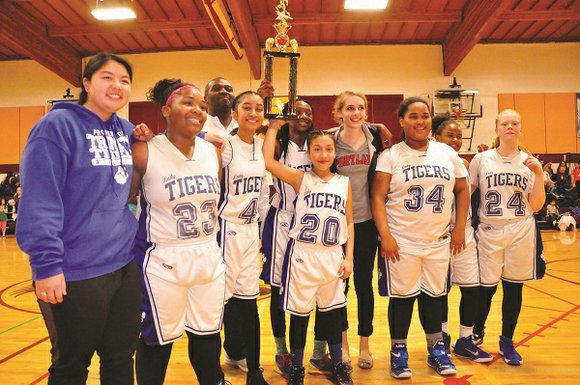 When the basketball season first started, the lady Trinity Tigers were ecstatic. They dreamed of having an undefeated season. When the season ended, the Tigers had not only obtained their goal, but won two championships. The first was the Lutheran Elementary School Tournament hosted by Concordia University since 1962, and the second was the Metro Christian League championship.
In the league playoffs, the first game was against Tualatin Valley Junior Academy and did not present much of a challenge for the girls. The next game was against City Christian, whom the Tigers had played before in a very close and competitive game. Trinity had to mentally prepare for a tough game, knowing the Lions were coming to get them.
Coach Dylana McGill prepared her team by saying, "It's not about who wants to win this game, both teams want the same thing. The difference is who wants it more." The Tigers were resolute. With a combination of winning the jump ball, scoring the first point, and utilizing their trap press gold defense, Trinity fiercely fought and kept the lead through the game and won, 55-34.
Two days later the Tigers were in the championship game against the Life Christian Lions at the Damascus Christian gymnasium. Both teams entered the game undefeated. Trinity had played all season with only seven players and knew they were going to have to dig deep if they were going to come out victorious. At the end of a brutal first quarter, the score was tied at 9. The Tigers were able to gain a lead by halftime and in the last half of the game, exploded with a run of points scored off of fast breaks and savvy Euro-steps by the Tiger offense.
The Lion defense could not keep up and by the end of the game, the Tigers secured their undefeated season with a 56-27 win. This is only the second girl's team in Trinity history that has gone undefeated.
Thanks to Raven Pearce, a 7th grader at Trinity Lutheran and a member of the lady Tigers baskeball team, for writing this story.